30. March, 2014

Print This Recipe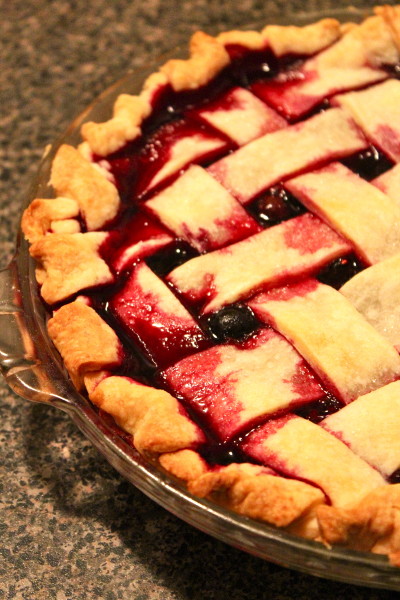 After many years of thinking about baking a three berry pie with a lattice pie top, I finally did it! The occasion: my wife's birthday. The reason: happiness in the household for another year! The three berry pie turned out great and so did the lattice top (also a first for The Male Baker).
All I did was make up my favourite double pie crust, click here to find it, threw in some of the most delicious frozen berries in my freezer, aka raspberries, Saskatoon berries, and blueberries, topped the berries with a lattice pie top, and baked away. Feel free to use any sort of berries that you have in your freezer to make your own original three berry pie.
Makes one very very delicious three berry pie
Three Berry Pie Filling :
1 cup fresh blueberries, halved
2 cups fresh raspberries
1 1/2 cups fresh Saskatoon berries
1/2 cup white sugar
3 tablespoons cornstarch
Method:
Transfer one piece of dough to a lightly floured surface. Roll the dough from the center to the edges to form a 12-inch circle. Wrap the crust around the rolling pin. Unroll it onto a 9-inch pie plate. Ease the crust into the pie plate, being careful not to stretch it. Trim the bottom crust evenly with the rim of the pie plate, and return the pastry-lined pie plate to the refrigerator.
In a large mixing bowl, stir together the sugar and cornstarch. Add the blueberries, raspberries, and Saskatoon berries; gently toss until berries are coated. Allow fruit mixture to stand for about 15 minutes.
Preheat the oven to 375 degrees F (190 degrees C). Place a baking sheet in the oven to preheat.
Roll out the remaining pastry for the top crust. Click this link to find out how to make a lattice pie crust. Stir the berry mixture and pour the filling into the pastry-lined pie plate. To prevent over-browning, cover the edge of the pie with foil.
Bake in the preheated oven on the baking tray for 45 minutes. Remove the foil.
Bake for an additional 20 to 30 minutes, or until the filling is bubbling and the crust is golden. Cool on a wire rack.
The Male Baker's Note: If using fresh berries, bake for 25 minutes with the foil, remove the foil, and bake for another 20 to 30 minutes.
Serve with vanilla ice cream and enjoy!
| | | |
| --- | --- | --- |
| | | |
| | Lattice Pie Top – Three Berry Pie | |
| | | |