15. June, 2011

Print This Recipe
Is anyone familiar with pesky individuals who just don't give up, the sort of individuals who have an idea and never forget about it? Well, this next recipe is dedicated to these individuals in my life, or should I say individual, who practically baked along side me with their baking ideas. Even though I would love to mention the rat who never gave up on having me bake these lemon coconut bars, I can't go as low as name calling on The Male Baker Blog. The most you can do is guess who this pesky individual is and ask "it" how the bars turned out! Because the last thing I remember was that the pan was empty less than 24-hours later. Since this lemon coconut bar recipe turned out so well, I am urging you to bake these at your convenience. But if you do not want to bake them, be that pesky individual and annoy a friend of yours who does! You will not regret it, enjoy.
Adapted from Betty Crocker's Baking Classics
Makes one 9-inch square pan full of addictive yummyness!
Ingredients:
1 cup                 All-purpose flour
½ cup               Butter, softened
¼ cup               Powdered sugar
1 tbsp                Lemon juice
1 cup                 Granulated sugar
2                         Large eggs
2 tsp                 Grated lemon peel
2 tbsp               Lemon juice
½ tsp                Baking powder
¼ tsp                Salt
½ cup              Shredded and sweet coconut
Dusting           Powdered sugar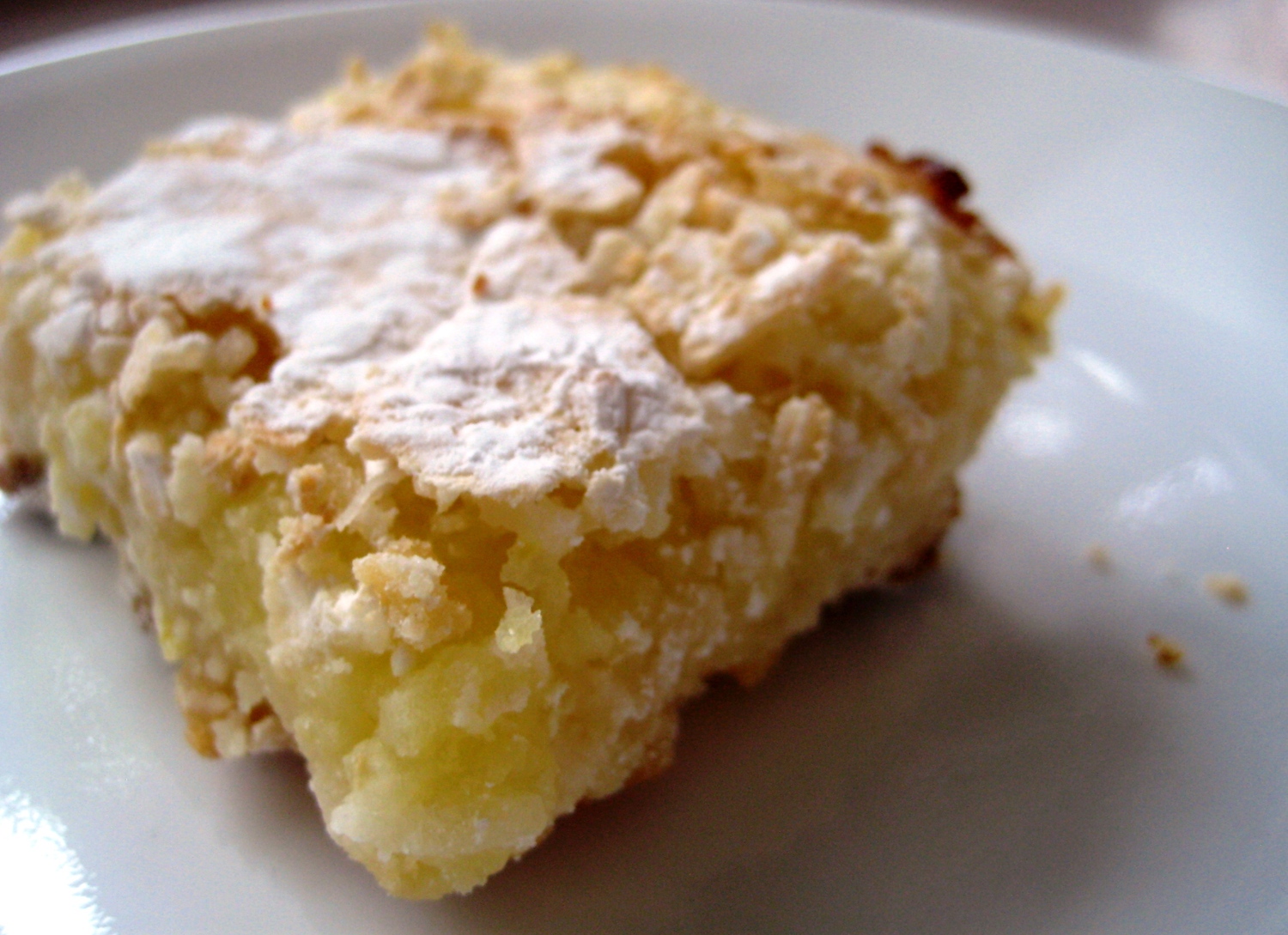 Method:
Base:
Preheat oven to 350 degrees F. Line one 8x8x2 baking pan with parchment paper and set aside.
In a medium bowl mix flour, butter, and powdered sugar together. Press into prepared pan and bake for 20 minutes.
Filling:
Mix together the sugar, eggs, grated lemon peel, lemon juice, baking powder and salt for about 3 minutes or until light and fluffy. Pour over the base layer once ready. Sprinkle the top with the shredded coconut and bake for 25 minutes or when the coconut begins to brown. Cool on a wire rack for 30 minutes and sprinkle with powdered sugar to your hearts delight.
Cut into 2-inch squares, eat up and enjoy!