6. July, 2011

Print This Recipe
Wowzers, these cookies must be caught up in the galaxies because they are flying high on top of planet amazing. When I was looking for inspiration online for my next baking extravaganza, I dropped by a recipe that blew me away. Not only was there peanut butter, but there was chocolate too! The perfect combination. But instead of stopping there I had to invite a few of my own buddies to the cookie party including, none other than, Mr. Skor Bar! And boy did he make his presence known. Skor just adds a little crunch here and a little garnish there to complete this party in your mouth. So bake away and maybe your cookies will be out of this world too!
Makes around 20 delicious cookies
1 cup                 All-purpose flour
1 tsp                  Baking soda
¼ tsp                Salt
½ cup              Unsalted butter, at room temperature
¾ cup              Creamy peanut butter
½ cup              Granulated sugar
1/3 cup           Light brown sugar
½ tsp               Pure vanilla extract
1                        Large egg
½ cup             Rolled oats
½ cup             Skor Bar bits (+extra for sprinkling on top)
¾ cup             Semi-sweet chocolate chips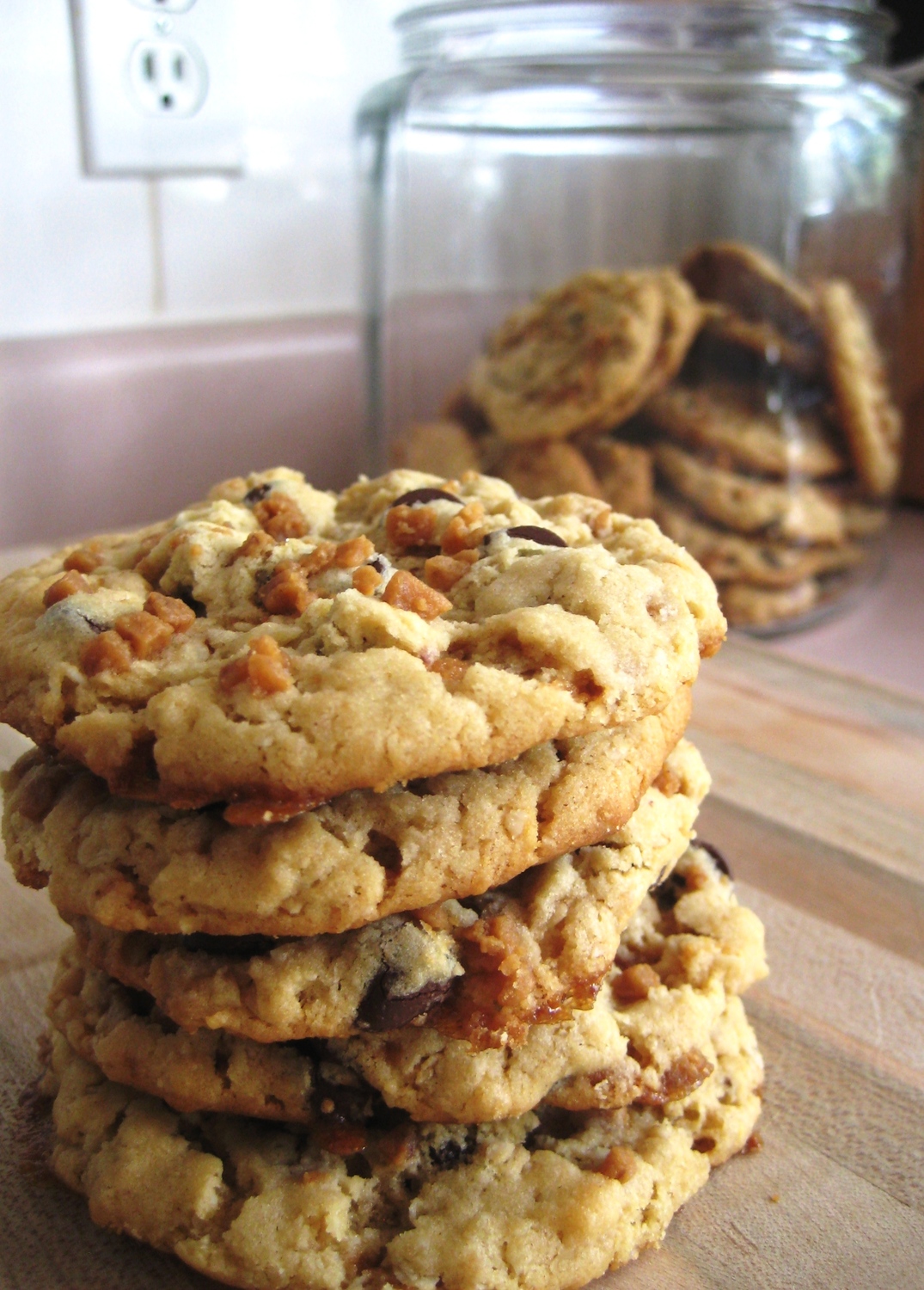 Method:
Preheat oven to 350 degrees F. Line two baking sheets with parchment paper and set aside.
Whisk together the flour, baking soda and salt, set aside.
On medium speed, cream together the butter, peanut butter, granulated sugar, brown sugar and vanilla extract, about 3 minutes. Add the egg and beat to combine. On low speed, add the flour in 2 additions until just combined after each addition. Stir in the oats, skor and then the chocolate chips.
Use a tablespoon to measure each cookies and drop dough onto prepared baking sheets about 2 inches apart. Bake for 10 minutes, or until the cookies are lightly golden around the edges. Cool completely on the baking sheet and then enjoy!
I strongly suggest you double this recipe because each person will have 3-4 cookies because they are soo good!