12. April, 2011

Print This Recipe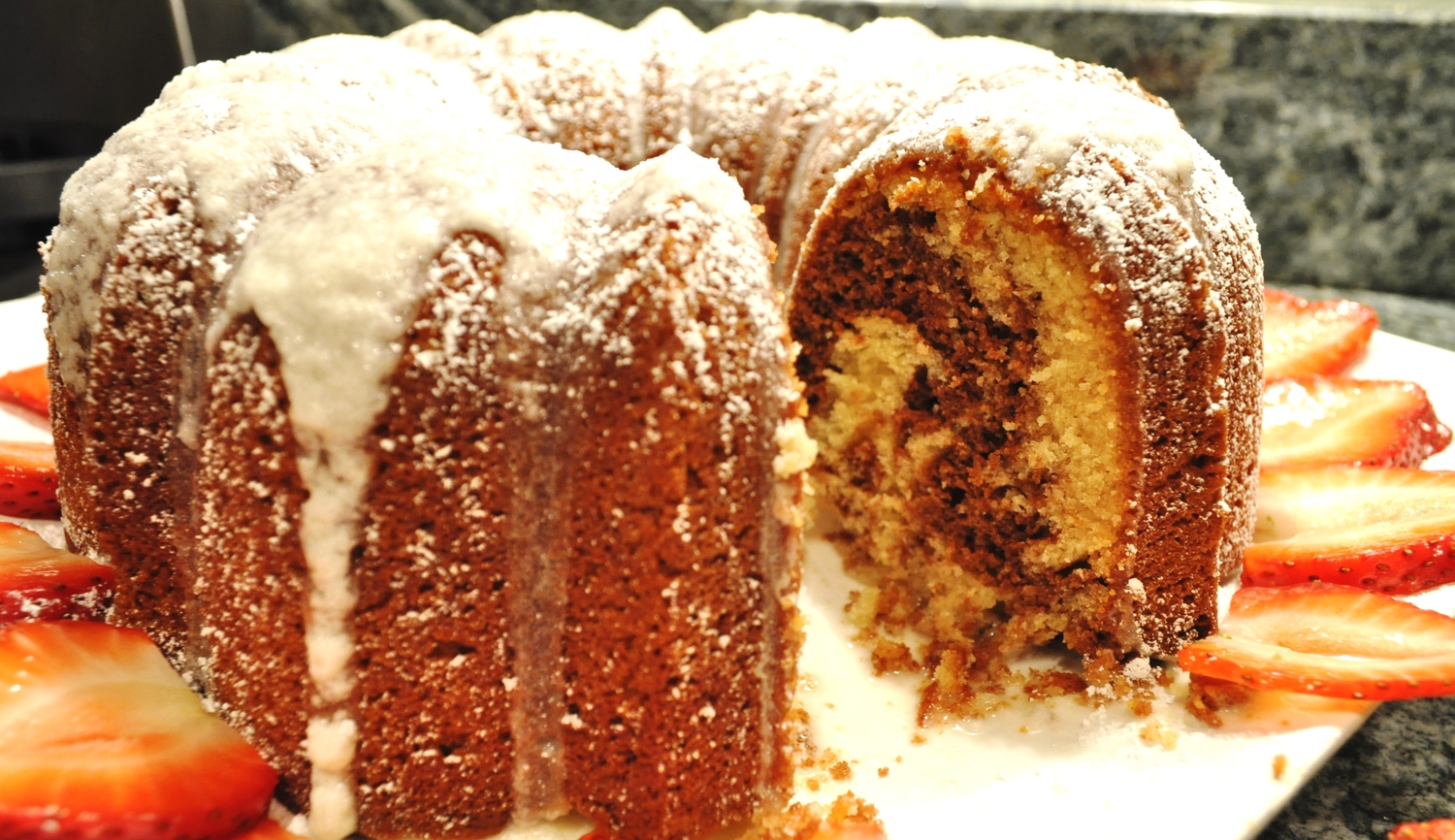 For all of you cake lovers, here is a recipe that you will not want to put on the shelves to get dusty! It is so good that you will make everyone tremendously happy that you decided to bake it. A lot of people have nightmares when I talk to them about Marble Bundt Cake. When I bring up this sore subject I get a lot of "it was o.k.," "it was a bit bland for me," and "no seconds that's for sure." I was inspired to bake a cake that reversed all of those thoughts into a resounding "gimme some mo!" This Marble Bundt Cake has a delicious chocolate layer that is sandwiched in between two angel-like vanilla layers and topped with a basic sugar frosting and powdered sugar for presentation. Adding a few pieces of fruit to pair with this cake would not be a mistake and I would even recommend it. So take off your hats for this Marble "of a Bundt" Cake and jump right in as soon as you can!
Adapted from Baked: New Frontiers In Baking
Yields one 9-inch Bundt Pan of Amazing-ness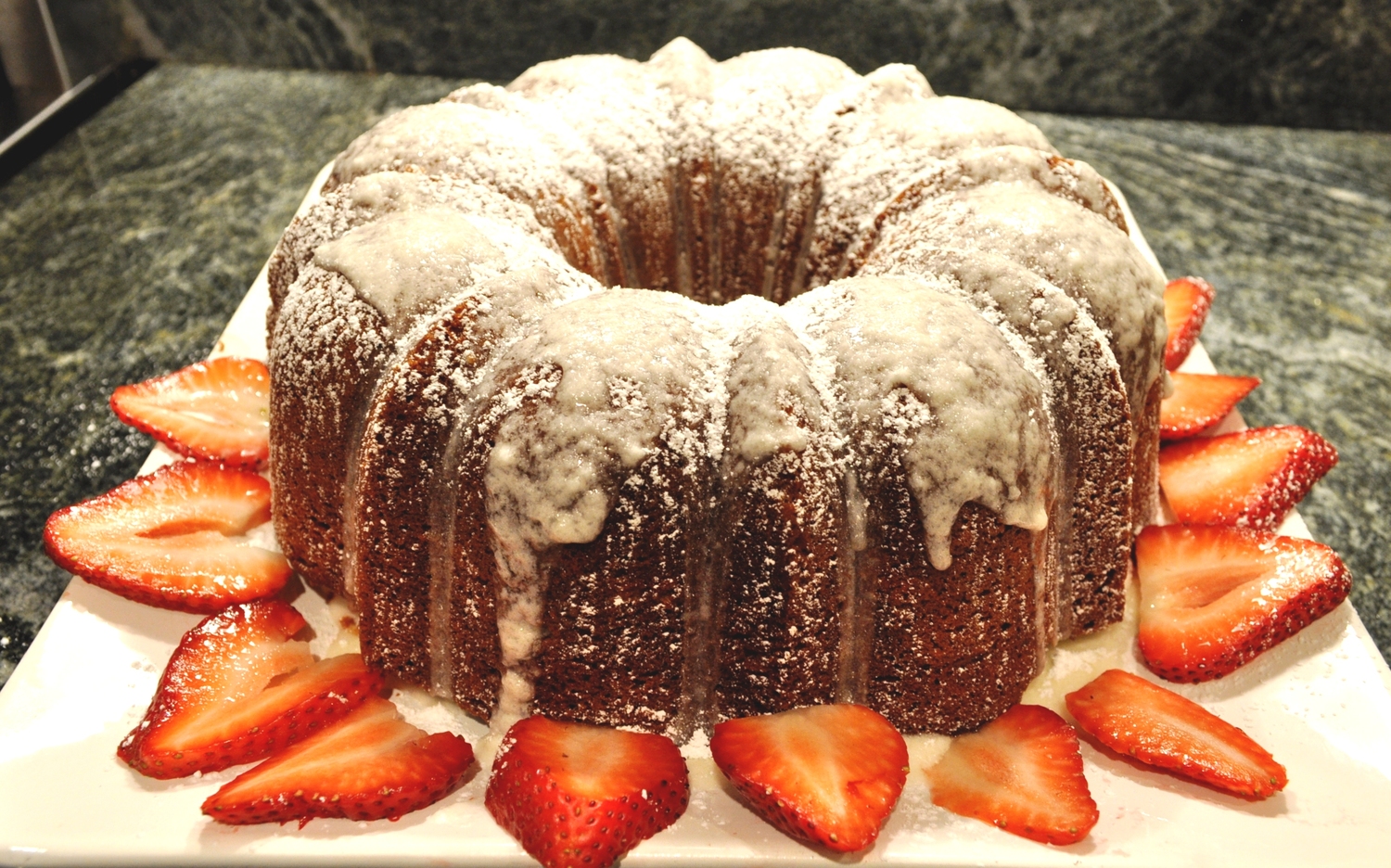 Ingredients:
For Chocolate Swirl:
6 ounces           Dark or semi-sweet chocolate
1 tsp                   Unsweetened cocoa powder
For the Sour Cream Cake:
3 ½ cups          All-purpose flour
1 ½ tsp             Baking powder
1 ½ tsp             Baking soda
½ tsp                Kosher salt
1 cup                 Butter, room temp and unsalted
2 ¼ cups         Sugar
4                         Large eggs
2 cups              Sour cream
1 ½ tsp            Pure Vanilla extract
For the Sugar Icing:
1/4 cup           Butter, unsalted at room temperature
2 1/2 cups     Powdered sugar
2 tbsp              Milk, 2%
1 tsp                 Pure vanilla extract
Method:
Chocolate Swirl:
Melt the chocolate in the microwave in 20 second intervals, stirring in between each one. Heat up until the mixture is almost smooth with a few chocolate pieces. The mix should be hot enough that the pieces will melt anyway. Set aside.
Sour Cream Cake:
Preheat oven to 350 degrees F and prepare one 9-inch bundt pan by spraying it with oil heavily.
In a medium bowl, sift together the flour, baking powder, baking soda, and salt.
In a large bowl, cream the butter until smooth and ribbon-like. Scrape down the sides of the bowl and add the sugar. Beat until mixture is smooth and fluffy. Add the eggs one at a time, beating for 10 seconds after each addition. Scrape the bowl down and mix for 30 seconds.
Add the sour cream and vanilla and beat until incorporated.
Add the dry ingredients in three additions, scraping the sides of the bowl down with a spatula after each addition, and mixing until incorporated.
Pour one third of the mixture in the chocolate mixture. Use a spatula to mix the two until the batter is a smooth chocolate batter.
Spread half of the remaining plain batter in the prepared pan. Use the spatula to dollop the chocolate cake batter onto the plain batter. Use a knife to swirl the chocolate and plain batter together. Pour the remaining plain batter on top of the chocolate layer and smooth it out. Once again, use the knife to pull through the layers to create a swirl.
Bake in center of the oven for an hour or until a sharp knife inserted in the center of the cake comes out clean.
Remove from the oven and let the cake cool in pan on wire rack for 30 minutes. Use knife to loosen the edges of the cake and invert it onto the wire rack and let cool.
Mix all ingredients to the icing until desired consistency. Drizzle the icing on top of the cake and let run down all of the cracks. Sprinkle with powdered sugar.
Serve warm or at room temperature and enjoy!