27. November, 2014

Print This Recipe
Happy Thanksgiving to all the Americans out there! As a Canadian, I celebrated this holiday weeks and weeks ago, all the way back in October. We celebrate Thanksgiving for the end of harvest season and before the snow starts to fly. What do all of the Americans celebrate it for? Food, football? If you need the perfect apple spice cake to make in a pinch this Thanksgiving, this cake is light and easy to make. Try it out!
Makes 1 9X5 inch Apple Spice Cake
Prep Time: 15 minutes
Bake time: 45 minutes
Ready in 1 hour
Ingredients:
Apple Spice Cake:
1/3 cup brown sugar
1 tsp ground cinnamon
1/2 cup white sugar
1/2 cup butter, softened
2 eggs
2 tsp vanilla extract
1 1/2 cups all-purpose flour
1 3/4 tsp baking powder
1/2 cup milk, I used Almond milk and it turned out great
2 apples, peeled and chopped
1/2 cup pecans, chopped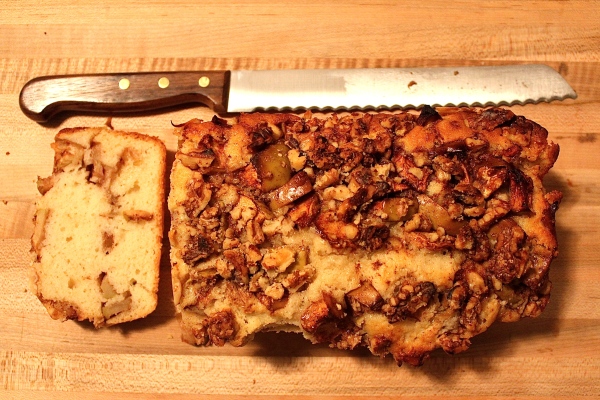 Directions:
Preheat the oven to 350F and line one 9X5 inch loaf pan with parchment paper. Set aside.
Mix brown sugar and cinnamon together in a bowl. Set aside
Beat white sugar and butter together in a bowl using an electric mixer until smooth and creamy. Beat in eggs, 1 at a time, until incorporated; add vanilla extract.
Combine flour and baking powder together in a bowl; stir into creamed butter mixture. Mix milk into batter until smooth. Pour half the batter into the prepared loaf pan; add half the apples and half the brown sugar mixture. Lightly pat apple mixture into batter. Pour the remaining batter over apple layer; top with remaining apples, brown sugar mixture and pecans. Lightly pat apples into batter.
Bake in the preheated oven until a toothpick inserted in the center of the loaf comes out clean, 45-55 minutes.
Let it cool down for a few minutes then dive in and gobble this apple spice cake down!
This Apple Spice Cake Adapted from Allrecipes, The Male Baker style