15. December, 2013

Print This Recipe
Has your computer or website ever been hacked? Unfortunately, this happened to me yesterday on The Male Baker.com. I was thinking of blogging some delicious coconut pecan double chocolate chip cookies but as soon as I got on the site I realized something was terribly wrong! Right across the top of the site it read, "Warning, warning…you have been hacked!" All I could see were warning signs all over the site and I worried that I had lost everything. Luckily I have an amazing web developer who took care of the problem straight away. Thanks Bryce, you ROCK! Now all of you can enjoy some chocolaty coconut pecan double chocolate chip cookies and a revitalized website to along with it!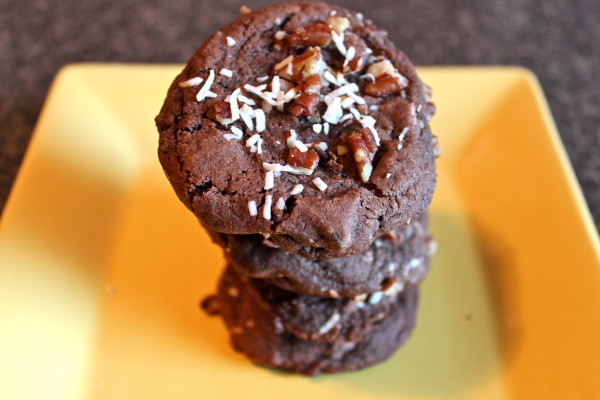 Makes 32 coconut pecan double chocolate chip cookies
Ingredients:
1 cup                           Butter, softened
1 cup                           Light brown sugar
1 cup                           Granulated sugar
2 tsp                            Pure vanilla extract
2                                   Large eggs, beaten
2 1/4 cups               All-purpose flour
1/2 cup                     Unsweetened cocoa powder
1 tsp                            Baking soda
Pinch                          Salt
1 cup                          Semisweet chocolate chips
1 cup                          Shredded sweetened coconut, such as Baker's Angel Flake Coconut
1 cup                          Chopped pecans
Method:
Preheat the oven to 375 degrees F. Line baking sheets with parchment paper.
In a stand mixer, blend the butter and both sugars. Add the vanilla and eggs until incorporated.
In a medium bowl, stir together the flour, cocoa, baking soda and salt.
Gradually add the flour mixture into the butter mixture and blend until combined. Stir in the chocolate chips, coconut and pecans.
Drop the dough by tablespoonfuls onto the prepared baking sheets, 12 cookies per sheet, and bake 8 to 10 minutes.
Cool on a baking rack and enjoy!
Adapted from The Food Network