7. December, 2013

Print This Recipe
If you had to come up with two reasons you are thankful for your freedom, what would they be?? I pondered this question while baking up some dark chocolate coconut scones,  and two things popped in my mind. The first thing, is that I am free to be as creative as I want in the kitchen. I don't have to be put in a box and told exactly what to do from a recipe book or a website. I can create freely with my own ideas and mix something up that fits my mood. The second thing I am thankful for, is the  freedom I have to write a blog and have all my friends test out some amazing recipes. So go ahead, take a moment to be thankful for you freedom,  and search whatever you would like from my site and bake away! I suggest you start with these scones, they will not disappoint!
Makes 6-12 dark chocolate coconut scones (depends on what size you slice them into)
Ingredients:
3/4 cup plus 1 tbsp       Cold heavy cream
1 large                          Egg
2 cups                         All-purpose flour (be exact here) plus more for work surface
1/4 cup                         Granulated sugar
2 tsp                             Baking powder
1/2 tsp                          Fine salt
6 tbsp (3/4 stick)          Cold unsalted butter, cut into small pieces
1/2 cup                         Dark Chocolate
1/2 cup                         Sweetened Coconut flakes
Sanding sugar (optional)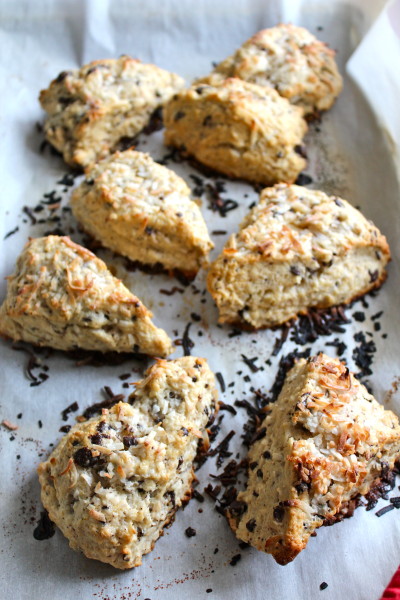 Method:
Preheat oven to 400 degrees and line one baking sheet with parchment paper.
In a medium sized bowl, whisk together 3/4 cup cream and egg.
In a large bowl, whisk together flour, granulated sugar, baking powder, and salt.
With a pastry blender or two knives, cut butter into flour mixture until it resembles coarse meal, with a few pea-size pieces of butter remaining. Stir in dark chocolate and sweetened coconut flakes.
With a fork, stir in cream/egg mixture until just combined. (The dough should be crumbly; do not overwork.) I work the dough until all ingredients are combined , usually 1 minute and then stop so that the scone is the right texture when finished baking.
Transfer dough to a lightly floured work surface and pat into a 6-inch circle (you can make a bigger circle, however you will have to adjust baking time to account for thinner scones. Cut into 6 wedges and transfer to a parchment-lined baking sheet. Brush tops with 1 tablespoon cream and sprinkle with sanding sugar, if desired.
Bake until golden, 16 to 18 minutes (less time if you made smaller/thinner scones), rotating sheet halfway through.
Serve by themselves or with a light layer of butter or jam. Enjoy!