10. December, 2014

Print This Recipe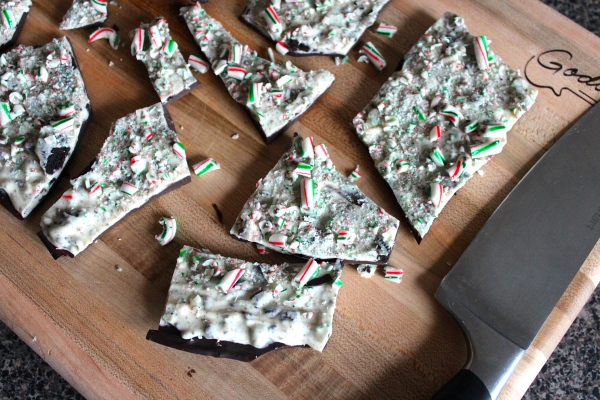 This is such a simple recipe that even my little brother Ben could make it up. So what are you waiting for?! If you have 2 hands (or one for that matter), one baking apron (preferably The Male Baker apron in my case), and 15 minutes of free time, then you should get going and make this White and Dark Chocolate Oreo Peppermint Bark!
Prep time: 15 mins
Cook/Freeze time: 45 mins
Total time: 1 hour
Difficulty: Easy Peasy
Makes: one regular sized cookie sheet
Serves: 12-15
Ingredients:
White and Dark Chocolate Oreo Peppermint Bark
12 ounces (1.5 cups/350 grams) good quality dark chocolate chips (or a chopped bar if you prefer)
12 ounces (1.5 cups/350 grams) good quality white chocolate chips (or a chopped bar if you prefer)
1-1½ cups (roughly 10-15 individual canes) crushed peppermint candy canes or peppermint candies
10 Oreos, chopped (as big or small as you would like, I used pretty big chunks to get the full effect and taste)
½ tsp. mint or peppermint extract, optional
Method:
Line a cookie sheet with parchment paper. Set aside.
Melt the dark chocolate in the microwave by placing in a microwave-safe bowl and heating and stirring in 20-30 second intervals until desired consistency. Should be heated enough to be able to spread on the cookie sheet.
Once melted, pour over parchment paper and spread as evenly as possible with a spatula. Place tray in the freezer while you prepare the white chocolate.
Now prepare the white chocolate in a clean bowl exactly the same way as you did with the dark chocolate. Add mint/peppermint extract if desired ( I found the candy canes to do the trick even without adding extra flavour). After it has melted and is smooth, add half of the crushed peppermint, all of the chopped Oreo's and stir to combine.
Pour over the chilled dark chocolate and spread evenly with a spatula. This step should be done as quickly as possible to avoid having the melted dark chocolate mix with the white chocolate.
Sprinkle the remaining candy canes over the white chocolate Oreo topping.
Place back into freezer for 30-45 minutes to fully harden.
Once completely hardened, remove from freezer and break into small pieces with your hands.
Store in an air-tight container in the freezer or the refrigerator and serve whenever you feel like it!
Perfect for a Christmas party because you can make way ahead of time and no one will know!