27. April, 2011

Print This Recipe
I haven't blogged in a while! Last week was a long time ago so I know you have all been craving some more baked goods. This next concoction of lemon and poppy seed was on my craving list for quite some time. Every time I thought about this recipe I couldn't help but to imagine a light and fluffy muffin that carried no guilt along with it. This recipe is no different. The muffin has a strong lemon taste and the poppy seeds give it a little crunch. To top it all off I created a light lemon frosting that adds a bit of sweetness to the whole muffin experience. These muffins are the best in the morning with a cup of joe. Enjoy my friends.
This recipe is adapted from the Brown Eyed Baker
Makes 12 light and lemon-ee muffins
Ingredients:
Muffins:
1 cup                Sugar
2                        Grated zest and juice of 2 lemons
2 cups             All-purpose flour
2 tsp                Baking powder
¼ tsp              Baking soda
¼ tsp              Salt
1 cup               Sour cream
2                       Large eggs
1 tsp                Pure vanilla extract
½ cup            Unsalted butter, melted and cooled
3 tbsp             Poppy seeds
Lemon Icing:
1 ¾ cups       Confectioners sugar
1                       Egg White
2 tsp               Fresh lemon juice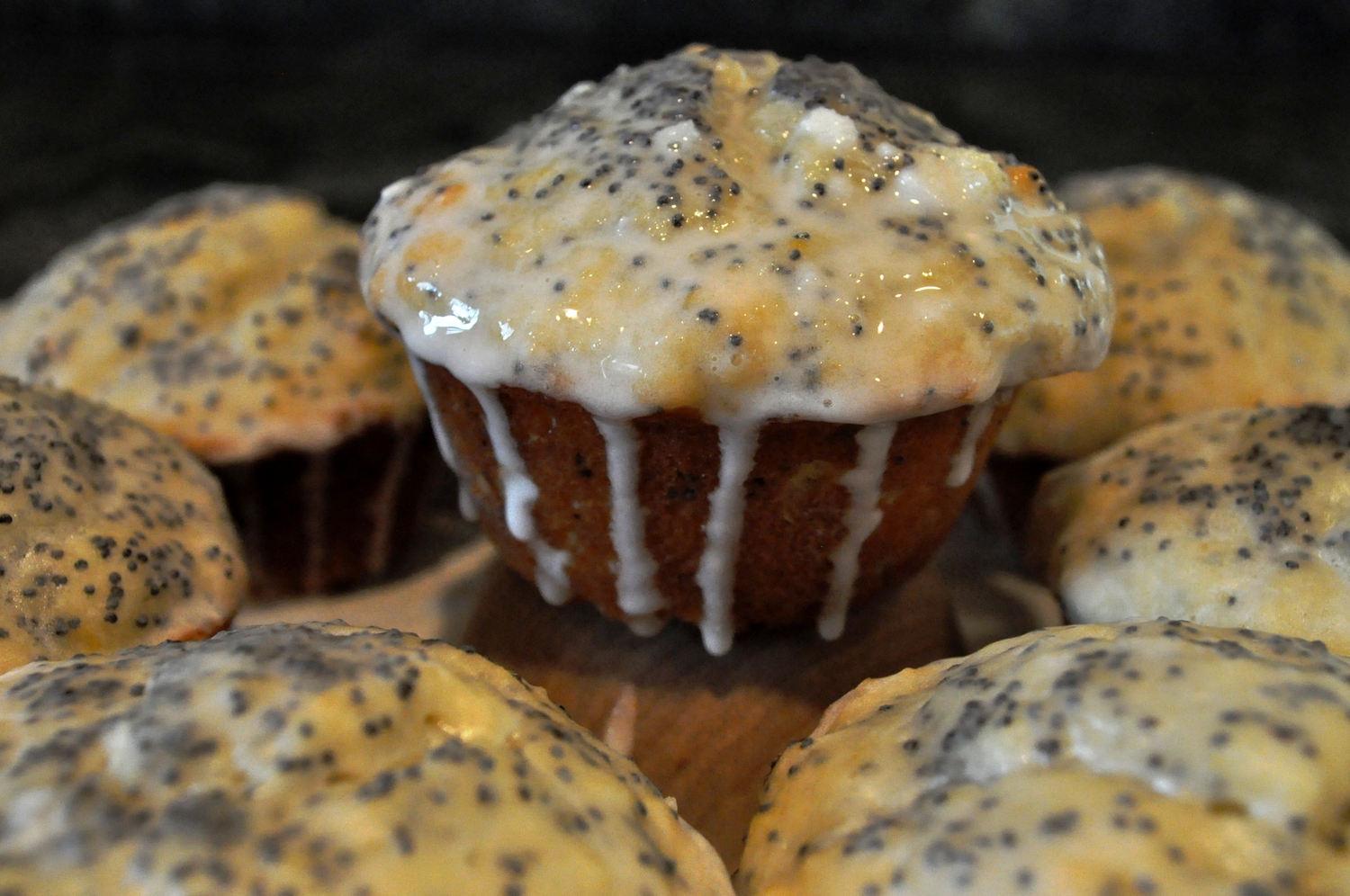 Method:
Preheat the oven to 400 degrees F. Butter or spray the 12 molds in a regular-size muffin pan and set aside.
In a large bowl, rub the sugar and lemon zest together with your fingertips until the sugar is moist and the fragrance of lemon strong. Whisk in the flour, baking powder, baking soda and salt.
In a large glass measuring cup or another bowl, whisk the sour cream, eggs, vanilla, lemon juice and melted butter together until well blended.
Pour the liquid ingredients over the dry ingredients and, with the whisk or a rubber spatula, gently but quickly stir to blend. At this point, a few lumps are better than over mixing the batter. Fold in the poppy seeds. Divide the batter evenly among the muffins cups. Sprinkle more poppy seeds on top of the muffin batter.
Bake for 18 to 20 minutes, or until the tops are golden and a toothpick inserted into the center of the muffins comes out clean. Transfer the pan to a rack and cool for 5 minutes before removing the muffins.
Mix the ingredients to the icing with a whisk until desired consistency and spread over cooled muffins. Enjoy!!!