21. April, 2011

Print This Recipe
So here is a little breakfast treat for you to try. These Buttermilk Waffles with Caramelized Bananas and Maple Syrup will absolutely blow you away. The smell alone from these waffles will make your taste buds dance! There is a little history behind waffles for me and I can't help but to think of these memories every time I make them, so here it goes. Back in the old days when I was living at home, Saturdays were my sleep in days. The only advocate against my sleeping in was my mom, so she came up with a brilliant way to awake me. Instead of just waking me up and saying that I was sleeping the day away, my mom would make home made waffles around 9 in the morning. As soon as the scent got down into my bedroom I would bolt upstairs and be treated to waffles with all sorts of toppings. From chopped fresh fruit, fruit puree, whip cream and maple syrup. I would eat to my hearts delight and I wouldn't even think of why I was up so early. Turns out it ain't a bad way to be woken up by your mom on a Saturday morning!
Makes 10 Golden Squares of Waffle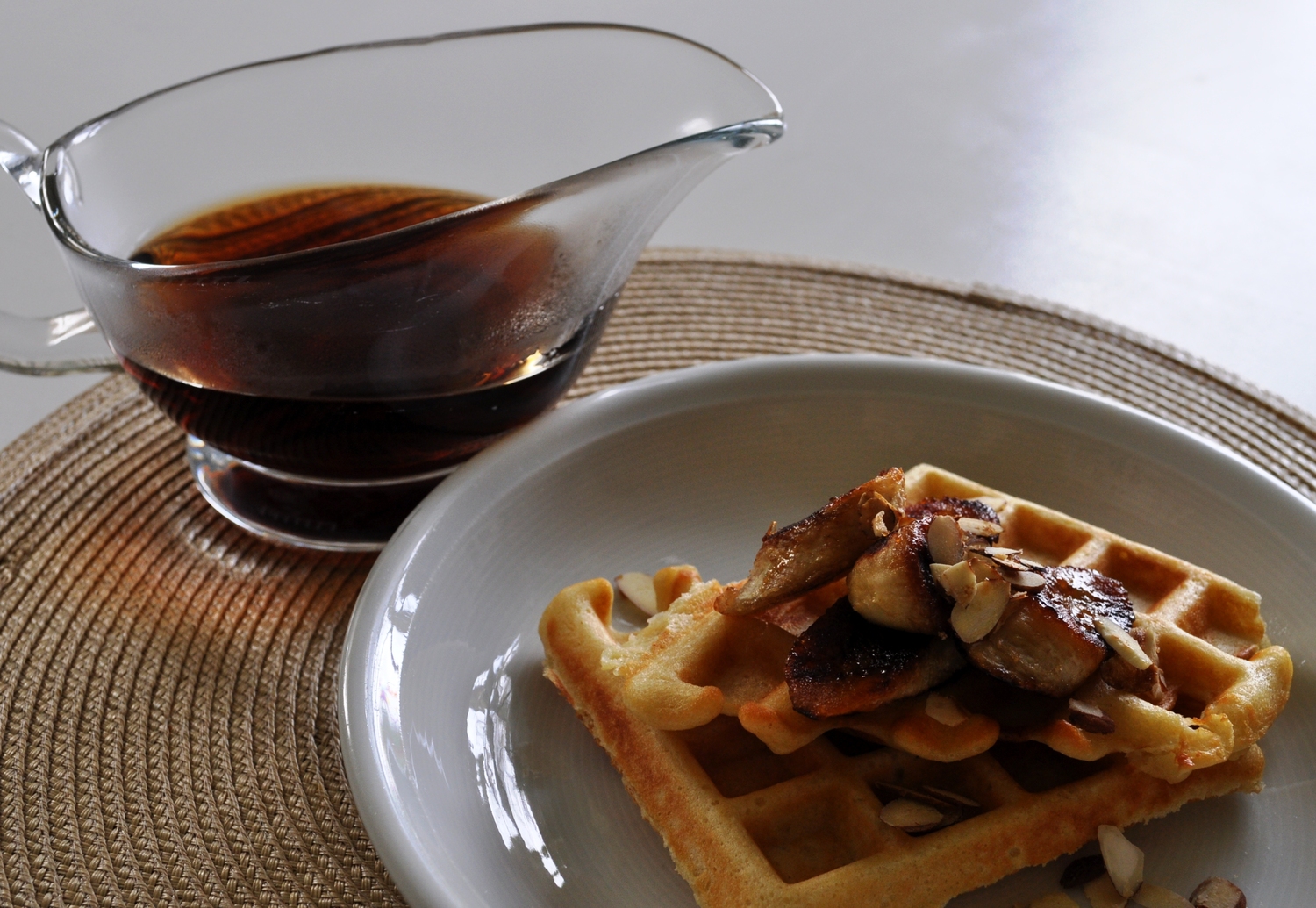 Ingredients:
Waffles
2                        Egg whites
2 cups              All purpose flour
1 ¾ cups         Buttermilk, 1 tbsp Vineger + 1 cup milk
1 tbsp               Sugar
¼ tsp                Salt
2                         Egg yolks
½ cup              Unsalted butter, melted
½ tsp               Pure vanilla extract
Caramelized Bananas
1                        Banana, chopped up
3 tbsp              Sugar
Method:
Plug in the waffle iron
Beat the egg whites until there are stiff peaks. This means that the egg whites will keep peaks after you fluff them with the beater or a fork. Set aside.
In a large bowl, whisk the flour, sugar, and salt.
In a medium bowl, whisk together the egg yolks, melted butter, buttermilk and vanilla.
Mix the with dry ingredients until incorporated. Do not over mix here.
Fold in the egg whites.
Spray the waffle iron with oil and put the batter in.
While the waffles are cooking, caramelize the bananas by coating each banana piece with sugar. Place in skillet and cook until blackening begins. Remove from heat.
Remove waffles from iron, top with bananas, maple syrup and enjoy!