19. June, 2011

Print This Recipe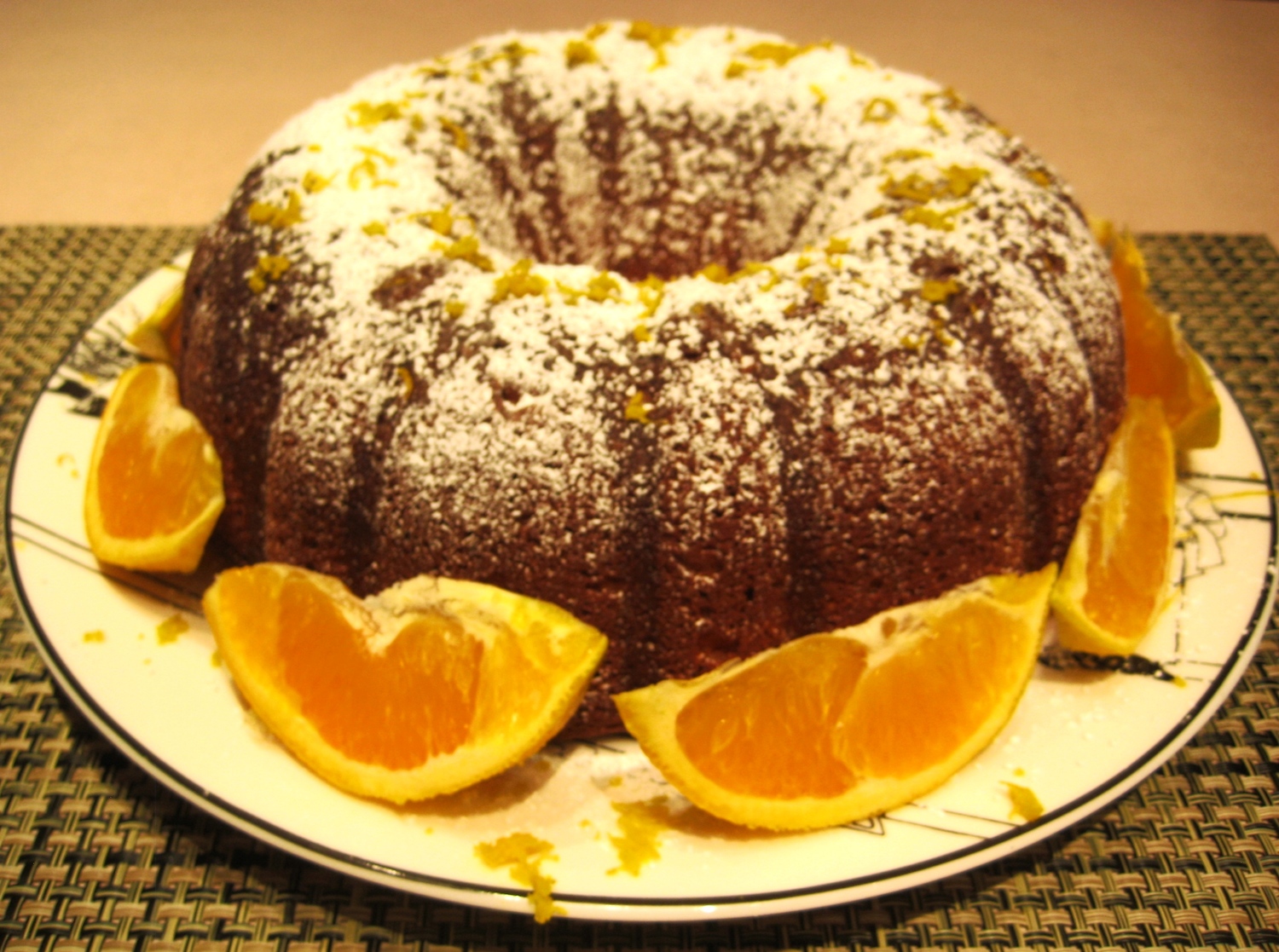 The scent of vitamin C will fill the air in your home when you bake this Olive Oil Orange Bundt Cake. I think I got 200% of my daily vitamin C intake just from the fumes alone on this one! Aside from feeling a slight deficiency in certain vitamins in my diet, I had a semi-sweet-tooth calling yesterday when I woke up in the morning.  I also felt the sudden urge to bake a cake for my cousin who just had a baby girl and needed some baked goods to fill the void. And instead of trying to come up with a gift for a newborn, I concluded that a cake would suffice as my gift! When no other ideas are coming to mind for a baby gift and baking is all you got to offer than fly with it. No one will ever be upset about that! That is unless you burn your baked goods and everyone ends up having a really bad day. On the bright side, I have a new second-cousin named Lucy! Booya! Good work on this one Marty and Aleisha.
Makes one big and beautiful Bundt Cake
Adapted from Baked Explorations
Ingredients:
Cake:
3 cups              All purpose flour
1 tbsp               Baking powder
½ tsp               Salt
4                        Large eggs, separated
2 cups              Granulated sugar
1 cup                Plain yogurt (I used 2% Greek yogurt)
¾ cup              Good quality extra-virgin olive oil
2 oranges       Freshly grated zest
1 tsp                 Vanilla paste, or 1 1/2 teaspoon vanilla extract (I used vanilla paste)
¼ cup              Confectioners' sugar, sifted, for dusting
Icing:
¼ cup              Freshly squeezed orange juice (this is a great way to use those oranges you grated!)
2 cups              Confectioners' sugar
Optional Decoration:
Slice up one orange and place slices around the cake for décor!
| | | |
| --- | --- | --- |
| | | |
| | Ingredients for ultimate bundt baking! | |
| | | |
Method:
Preheat the oven to 350 degrees F. Generously spray the inside of a 10-inch Bundt pan with non-stick cooking spray and flour.
In a large bowl, whisk together the flour, baking powder and salt. Set aside.
With a paddle attachment, beat the egg yolks until they are pale and light; slowly pour in the sugar until it is completely incorporated. Add the yogurt and olive oil and mix until thoroughly combined. Add the orange zest and vanilla, and mix until just incorporated.
Add the flour mixture to the wet ingredients in two parts, beating after each addition until just combined (about 10 seconds). Scrape down the bowl and beat again for 5 seconds.
In another large bowl, beat the egg whites until stiff peaks form. Scoop 1 cup of the egg whites into the batter. Use a rubber spatula to gently fold them in. After about 30 seconds of folding, add the remaining egg whites and gently fold until they are almost completely combined. Do not rush the folding process!
Pour the batter into pan and bake for 40-50 minutes until toothpick comes out clean. Transfer the pan to a wire rack to cool completely. Just before serving, dust with confectioners sugar and enjoy!