1. April, 2013

Print This Recipe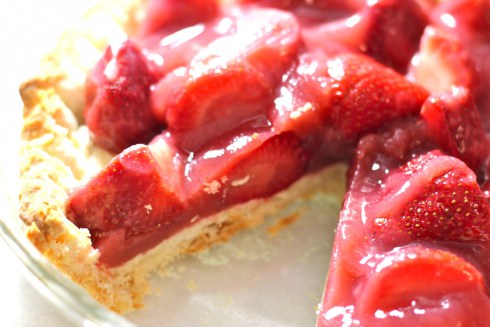 Do any of you dream of having strawberry cream cheese pie every day of the week? Now that I know just how good this pie is, I am starting to have these dreams. For Easter this weekend, I made strawberry pie to go with our turkey lurkey dinner. What a finish it was! Grab some of the freshest berries from the store (and a frozen pie pastry if you are lazy), bake the pastry (I highly recommend making it from scratch), fill it with delicious cream cheese, fresh strawberries, and strawberry puree, chill it for a few hours, and indulge.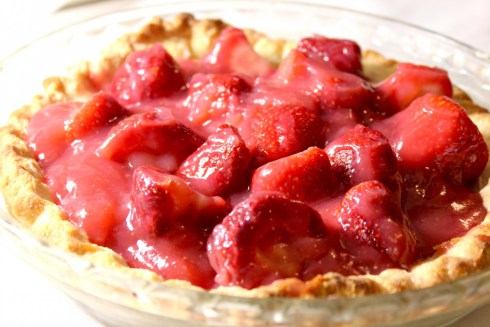 Ingredients:
For the puff pastry:
1 1/4 cups           All purpose flour
1/2 teaspoon       Salt
1 squeezed         Lemon (optional)
1 tbsp                 Granulated sugar
6 tbsp                 Unsalted butter, chilled, cut into 1/4 inch cubes (3/4 of a stick)
1/4 cup               All-vegetable shortening (4 Tbsp)
3-4 tbsp              Ice water
For the Filling:
1 pound                        Frozen strawberries
1/4 cup                         Cold water
2 pounds                      Fresh strawberries, gently rinsed and dried, hulled
¾ cup                           Granulated sugar
2 tbsp                           Cornstarch
1 package                    Knox Gelatin (follow directions on package), substitute: 1 ½ tsp Sure Jell
Pinch of salt
1 tbsp                           Lemon juice
3 tbsp                           Cream cheese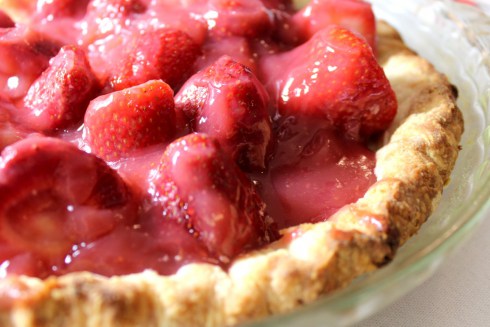 Method:
Pastry:
Combine flour, salt, and sugar in a food processor; pulse to mix or use a whisk.
Add the butter and pulse 4 times (you can also use a butter knife to do this step, use the knife to cut and combine the butter into the mix).
Squeeze the lemon in the mixture.
Add shortening in tablespoon sized chunks, and pulse 4 more times (optional butter knife here as well). The mixture should resemble coarse cornmeal, with butter bits no bigger than peas. Sprinkle 2-3 tablespoons of ice water over flour mixture. Pulse a couple times. If you pinch some of the crumbly dough and it holds together, it's ready. If the dough doesn't hold together, keep adding water (max 4-5 tablespoons total, a tablespoon at a time, pulsing once after each addition, until the mixture just begins to clump together).
Remove dough from machine and place in a mound on a clean floured surface. Flatten into a 4 inch wide disk. Do not over-knead the dough at this step or else it will be wayyyy too crumbly. Dust the disks lightly with flour, wrap each in wax paper, and refrigerate for at least an hour, or up to 5 days before rolling out.
Adjust oven rack to lowest position and preheat oven to 425 degrees F. Remove dough from refrigerator and roll out on generously floured work surface to 12-inch circle about 1/8-inch thick. Roll dough loosely around a rolling pin and unroll into pie plate, leaving at least 1-inch overhang on each side. Working around circumference, ease dough into plate by gently lifting edge of dough with 1 hand while pressing into plate bottom with other hand. Leave overhanging dough in place; refrigerate until dough is firm, about 30 minutes.
Trim overhang to ½ inch beyond lip of pie plate. Fold overhang under itself; folded edge should be flush with edge of pie plate. Flute dough or press tines of fork against dough to flatten against rim of pie plate. Refrigerate dough-lined plate until firm, about 15 minutes.
Remove pie plate from refrigerator and use a fork to prick the bottom of the dough. Line the crust with foil, and fill with pie weights or dried beans. Bake for 15 minutes. Remove foil and weight, rotate plate, and bake for 5 to 10 additional minutes, until crust is golden brown and crisp. Let cool to room temperature.
Once at room temperature, spread the cream cheese on the bottom before placing the filling in.
For the Filling:
Select 1 pound of frozen berries (or the most unattractive fresh berries, halving those that are large; you should have about 1½ cups.) In a food processor, process the berries to a smooth puree (add ¼ water to help puree the frozen berries), 20 to 30 seconds, scraping down the bowl as needed.
Whisk the sugar, cornstarch, pre-mixed Knox gelatin, and salt in a medium saucepan. Stir in the berry puree, making sure to scrape the corners of the pan. Cook over medium-high heat, stirring constantly with a heatproof rubber spatula or a whisk, and bring to a full boil. Boil, scraping the bottom and sides of the pan to prevent scorching, for 2 minutes to ensure that the cornstarch is fully cooked (mixture will appear frothy when it first reaches a boil, then will darken and thicken with further cooking). Transfer to a large bowl and stir in lemon juice. Let cool to room temperature.
Meanwhile, pick over the remaining berries and measure out 2 pounds of the best ones; halve only extra-large berries. Add the berries to the bowl with the glaze and fold gently with a rubber spatula until the berries are evenly coated. Scoop the berries into the pie shell, piling into a mound. If any cut sides face up on top, turn them face down. If necessary, rearrange the berries so that holes are filled and the mound looks attractive. Refrigerate pie until chilled, about 2 hours. Serve within 5 hours of chilling and enjoy!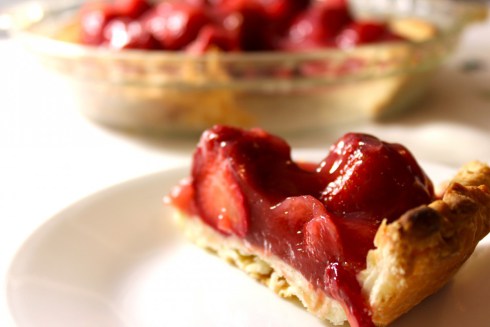 Recipe Adapted from Cooks Illustrated