19. November, 2012

Print This Recipe
Wanna know a little secret about The Male Baker?
Up until now, I had never baked a pie! Some of you may not find this secret very revolutionary but I find this pretty crazy. I have been baking for close to 8 years now and I am slightly ashamed to say that until a couple days ago, I had never concocted a Canadian/American classic. Finally I can now say that I have baked a pie, a salted caramel apple pie to boot. Surprisingly, it turned out better than I could have ever imagined. Oozing caramel from three layers, crust that was both chewy and flakey, and a thanksgiving classic that will delight all of your friends and family!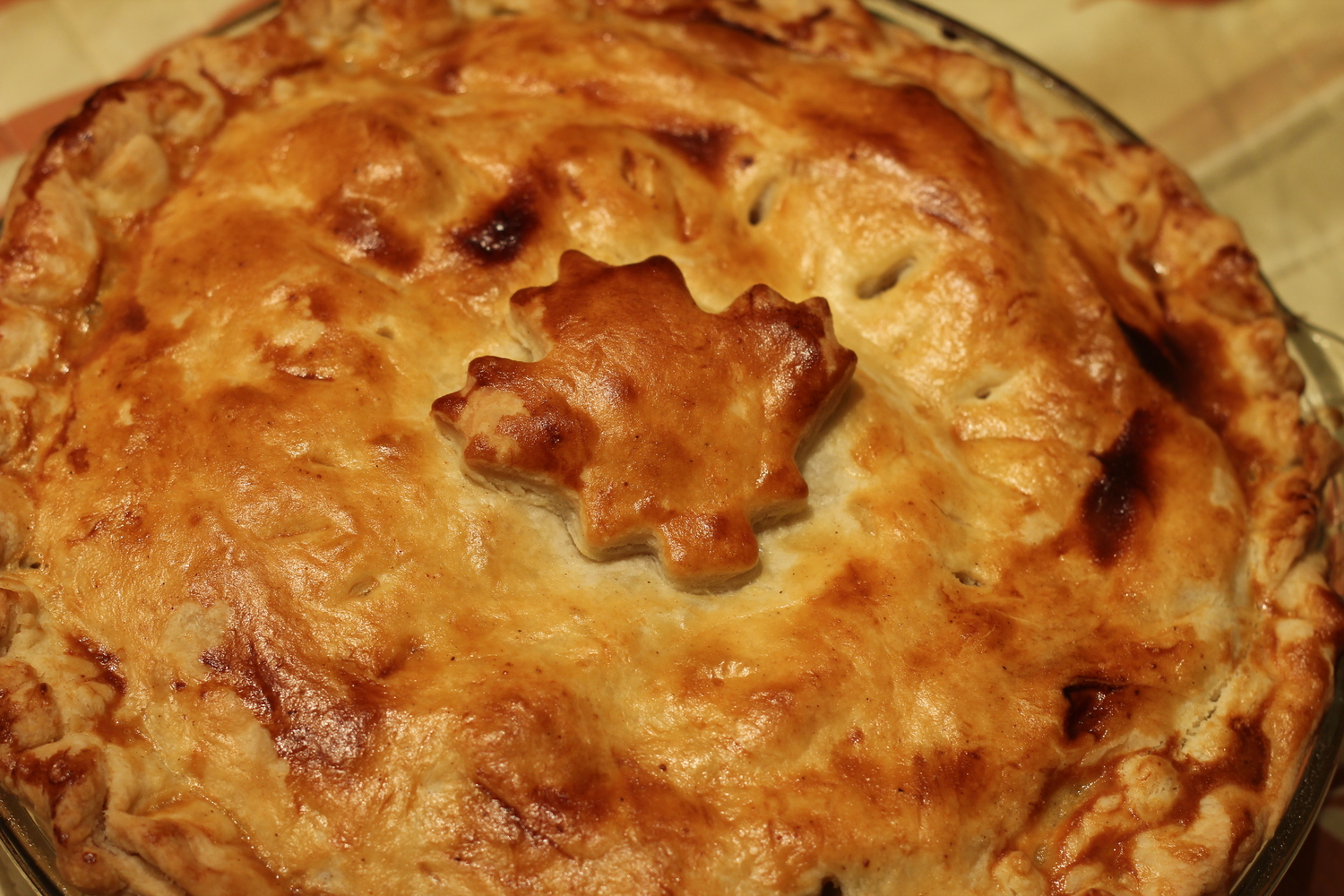 Makes 1 delicious salted caramel apple pie
Prep time: 75 minutes
Bake time: 45-55 minutes
Total time: ~2 hours
Ingredients:
One double-crust 9 inch or 10 inch pie
2 1/2 cups          All purpose flour
1 teaspoon         Salt
2 squeezed         Lemons
2 tbsp                   Granulated sugar
3/4 cup              Unsalted butter, chilled, cut into 1/4 inch cubes (one stick and a half)
1/2 cup              All-vegetable shortening (8 Tbsp)
6-8 tbsp             Ice water
Salted caramel apple pie filling
4-6                        Lemons
4-6                        Large apples (granny smiths are ideal but I also added a spartan for extra color and taste)
1/3 cup               Granulated sugar
2 tbsp                  All purpose flour
½ tsp                   Ground cinnamon
¼ tsp                   Ground allspice
1/8 tsp                Ground nutmeg
1/2                        Jar of Trader Joe's Salted Caramel sauce (you can also look up a recipe online but TJ's sauce is delicious!)
Assembly for the top crust
1                            Large egg, beaten
1 tbsp                 Milk (I used 2%)
Method:
Combination of butter and shortening crust:
Combine flour, salt, and sugar in a food processor; pulse to mix or use a whisk.
Add the butter and pulse 4 times (you can also use a butter knife to do this step, use the knife to cut and combine the butter into the mix).
Squeeze the lemons in the mixture.
Add shortening in tablespoon sized chunks, and pulse 4 more times (optional butter knife here as well). The mixture should resemble coarse cornmeal, with butter bits no bigger than peas. Sprinkle 4-6 tablespoons of ice water over flour mixture. Pulse a couple times. If you pinch some of the crumbly dough and it holds together, it's ready. If the dough doesn't hold together, keep adding water (max 6-8 tablespoons total, a tablespoon at a time, pulsing once after each addition, until the mixture just begins to clump together).
Remove dough from machine and place in a mound on a clean floured surface. Divide the dough into 2 balls and flatten each into 4 inch wide disks. Do not over-knead the dough at this step or else it will be wayyyy too crumbly. Dust the disks lightly with flour, wrap each in wax paper, and refrigerate for at least an hour, or up to 5 days before rolling out.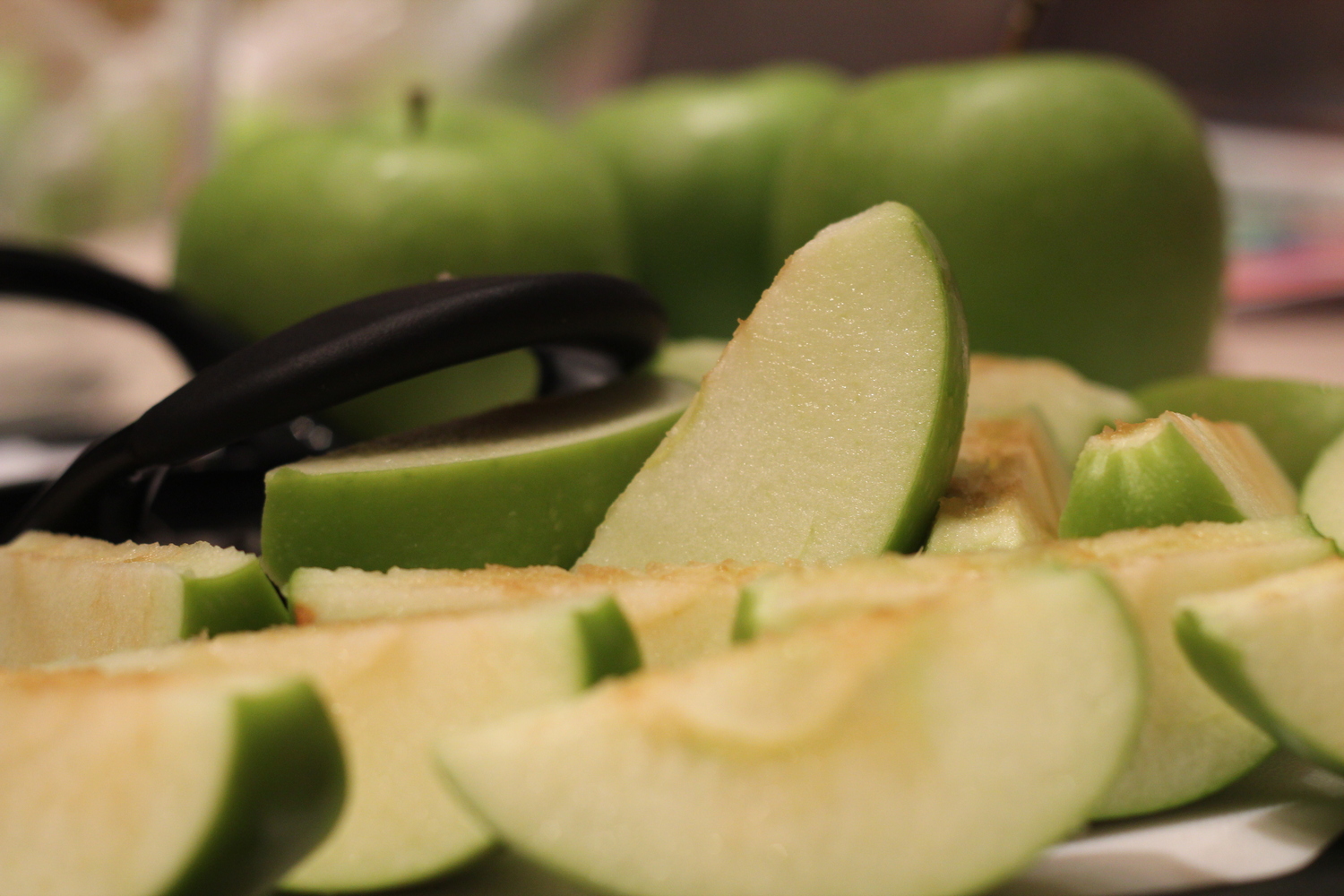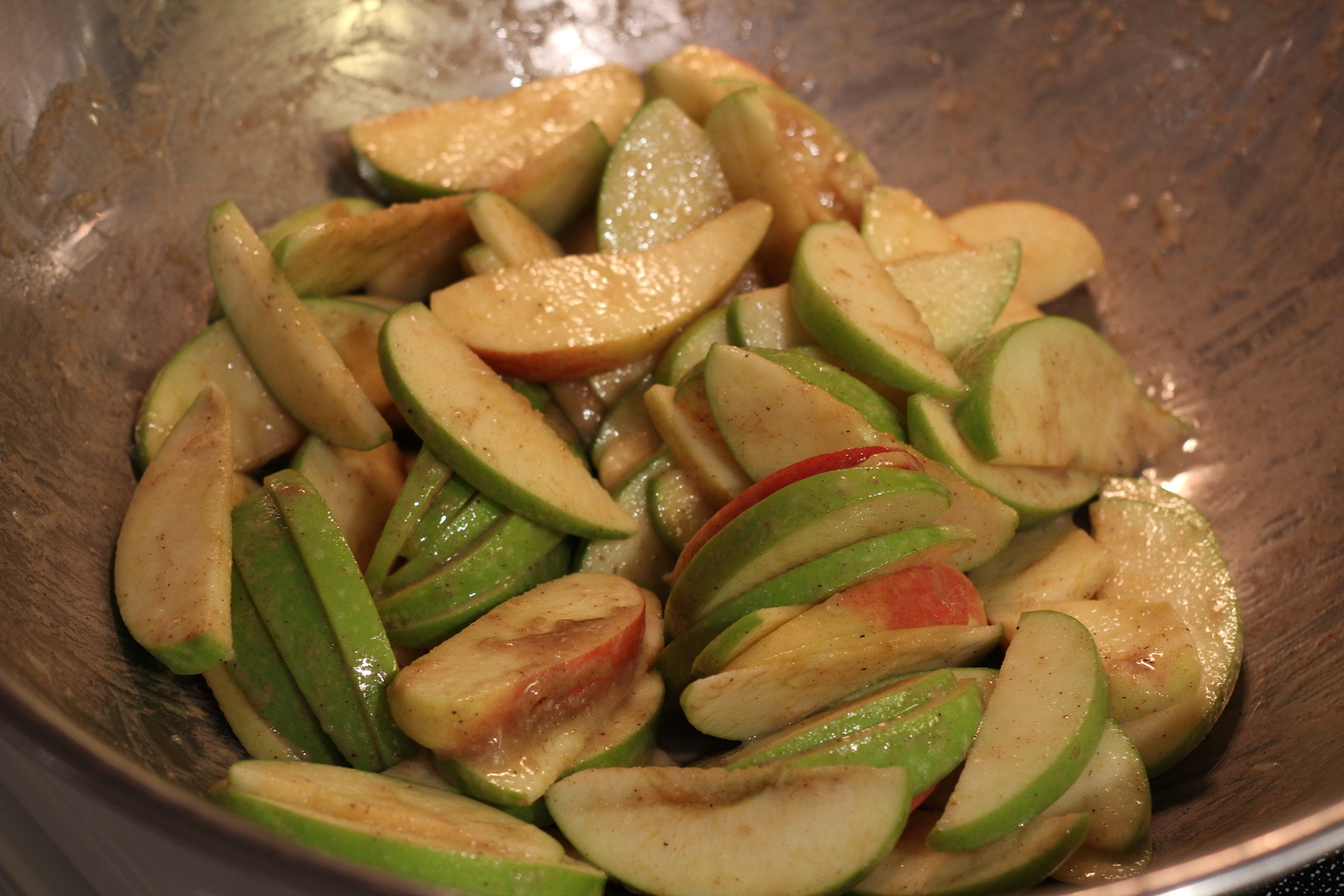 Salted caramel apple pie filling (make while the dough is in the fridge):
Juice the lemons into a large bowl.
Cut and core the apples thinly and mix in with the lemon juice. It is not necessary to peel the apples since they will bake anyway and taste delicious!
In a small mixing bowl, combine the sugar, flour, cinnamon, allspice, and nutmeg.
Mix the sugar mixture with the apples until all the apples are coated.
Set aside.
Now that the dough is chilled, you are ready to bake!
Preheat the oven to 400F.
After the dough has been in the refrigerator for an hour, take it out to roll. If it is too stiff, you may need to let it sit for 5-10 minutes at room temperature before rolling.
Sprinkle a little flour on a flat, clean work surface and on top of the disk of dough you intend to roll out. Using a rolling pin, and roll it out until it is 2-3 inches wider than your pie baking dish. Check periodically to make sure it is not sticking onto the surface. When it is big enough place it in your pie baking dish. Do not stretch the dough at this step.
Roll out the second piece of dough. Make sure you have some extra dough so that you can add a Canadian leaf on the top for flare!
Place the filling in three layers over top of the dough that you have prepared in the baking dish. In between each addition of apples pour as much Trader Joe's Salted Caramel sauce on top of the apples as you wish.
Gently place onto the top of the filling in the pie. Use a kitchen scissors to trim the overhang to an inch over. Fold the edge of the top piece of dough over and under the edge of the bottom piece of dough, pressing together. Finish the double crust by pressing against the edges of the pie with your finger tips or with a fork.
Use a sharp knife to cut vents into the top of the pie crust, so the steam has a place to go while the pie is cooking. Brush on the egg/milk mixture on the top of the crust if desired.
Bake the pie on a baking sheet for 20 minutes (if it gets too hot the caramel may bubble over).
Reduce the oven temperature to 325 to 350 and bake for 25 to 35 minutes. You can test the apples for doneness with a long toothpick or small knife. The apples should be just soft.
Let the pie cool off for a little while and go to town on your freshly baked salted caramel apple pie!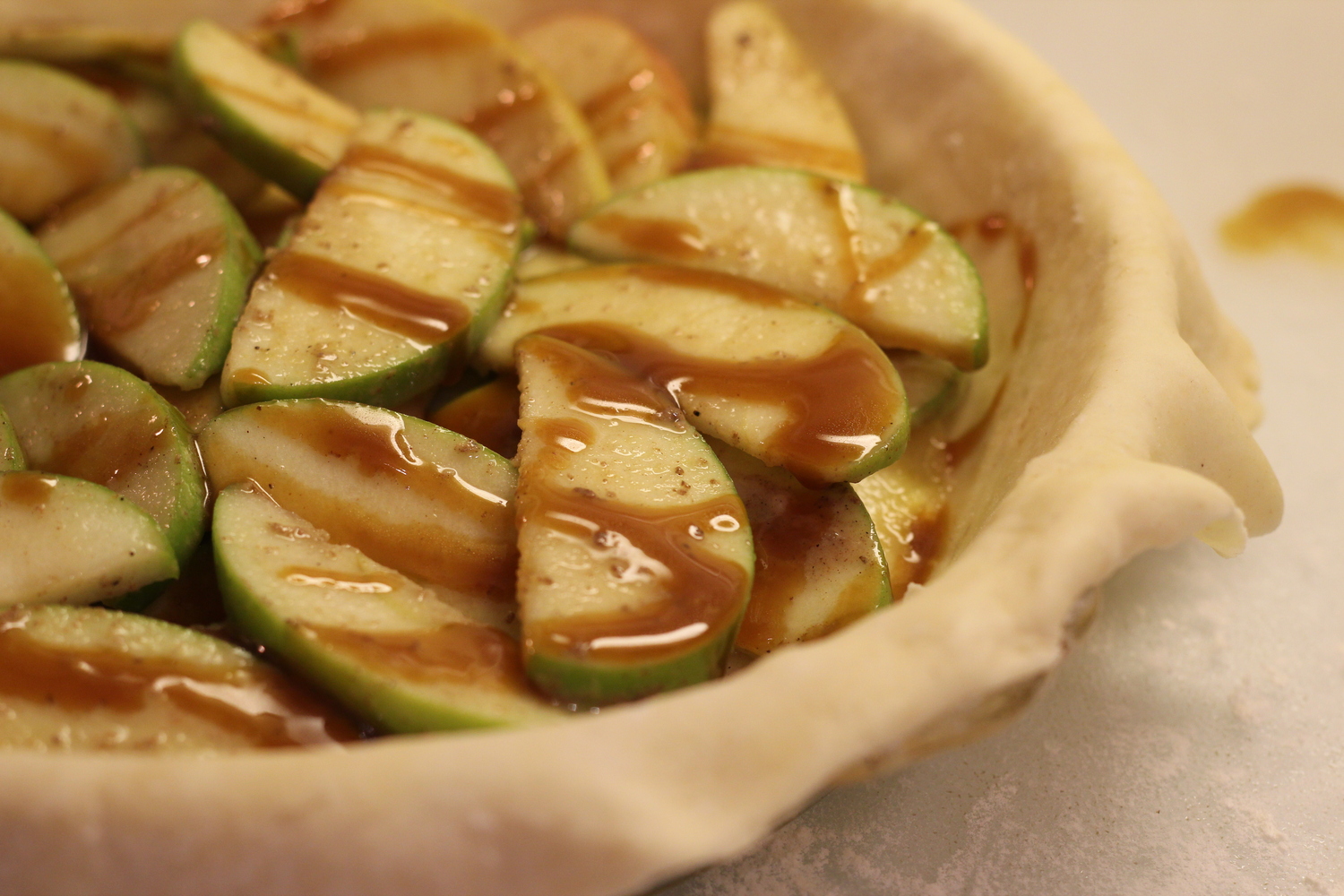 Pie crust adapted from Simply Recipes and the filling adapted from Four and Twenty Blackbirds.