29. March, 2011

Print This Recipe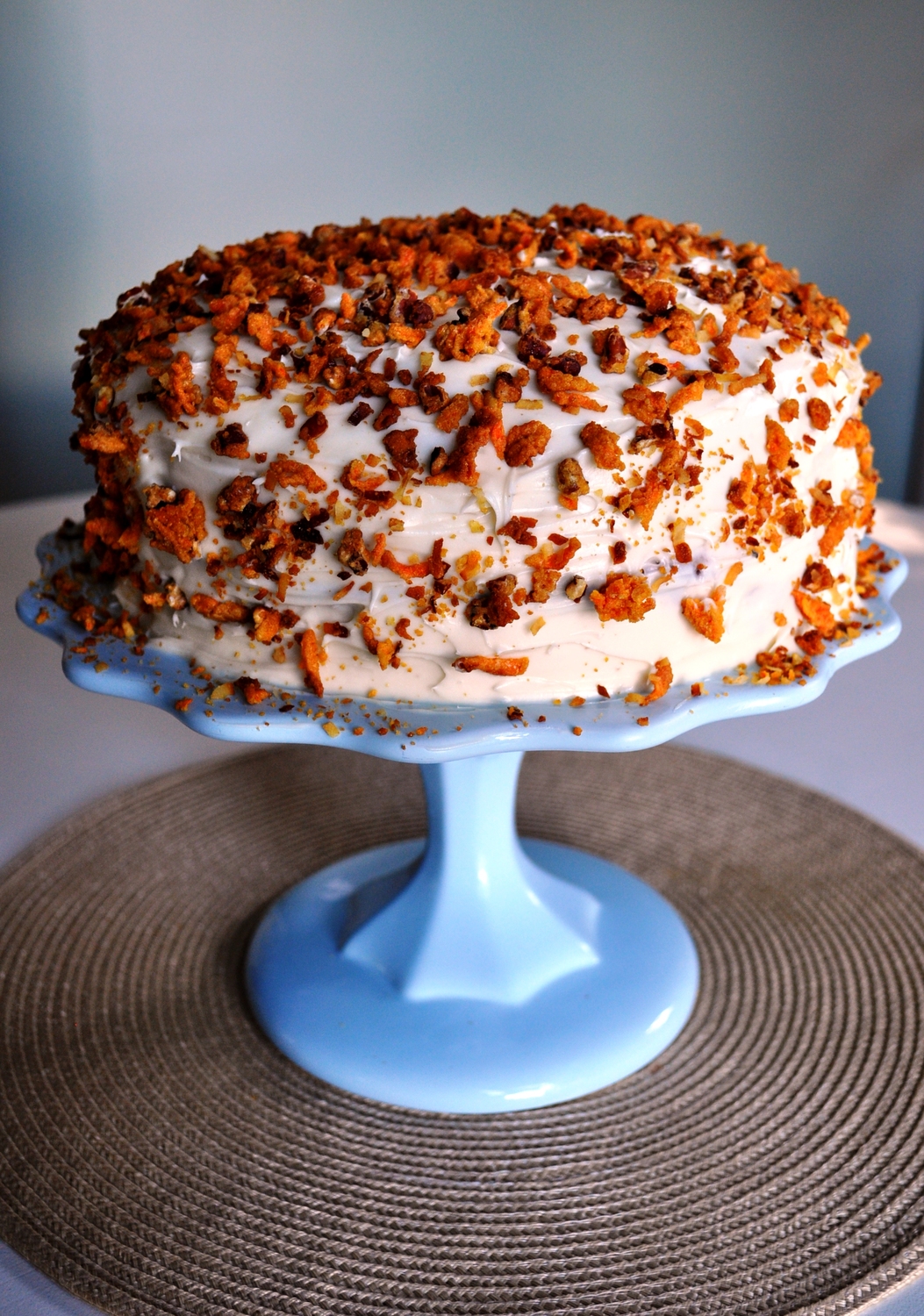 Auctions…gotta love em. Have you ever been to one? Well, The Male Baker has and man was it a hoot! I enjoyed it so much that I didn't even go, only my Carrot Cake did. I was asked by my friend Amy to bake a fancy dessert that she could take to her 7 year olds school auction. Once I heard of the task at hand, I got right down to business. I started pondering what kind of cake to bake, what to put in it and how to add some unique touches. Carrot Explosion Cake was the final decision. Not only did I throw a few curve balls in this cake, I threw a major one for the topping. Candied carrot, pecan and coconut sprinkled all over the cake to dress it for success.
The way it worked was that every table made bids on what order they could pick their dessert. Not only did all the proceeds go to the school, but you got to eat dessert before everyone else. After the night was done, my cake got picked third overall by the twenty some tables there. Success!!! If a big cake is not what you have in mind for your next baking extravaganza than just use this recipe and make some carrot cake muffins that everyone will love. Have fun!
Makes one large cake that can feed 10-12 folks
Ingredients:
Cake:
2 ½ cups          All purpose flour
2 tsp                   Baking powder
½ tsp                 Baking soda
¾ tsp                 Kosher salt
1 ¼ tsp              Ground cinnamon
½ tsp                 Ground ginger
¼ tsp                 Freshly grated nutmeg
¼ tsp                 Ground clove
¼ cup                Unsalted butter, softened
¾ cup                Extra virgin olive oil
1 cup                  Firmly packed light brown sugar
½ cup                Granulated sugar
2 tsp                   Pure vanilla extract
3                          Large Eggs
½ cup               1% or 2% Milk
3 cups               Grated carrot (peeled), about 6 large carrots
1 cup                 Finely chopped pineapple
¾ cup               Finely chopped pecans, toasted
1 cup                 Fresh Coconut
Frosting:
16 ounces       Cream cheese, about 2 packages softened
8 tbsp               Unsalted butter, softened
2 tsp                  Pure vanilla extract
4 cups               Confectioners' sugar
Topping:
1 tsp                  Olive oil
1 cup                Grated carrots, about 2 large carrots
¼ cup              Chopped pecans
¼ cup              Fresh coconut
¼ cup              Golden brown sugar
Method:
Preheat oven to 350 degrees F. Place parchment paper and flour two (9 inch) cake pans, using your preferred method.
In a medium sized mixing bowl, whisk together flour, baking powder, baking soda, salt, cinnamon, ginger, nutmeg, and clove.
In a large mixing bowl, using an electric mixer on medium speed, beat together butter, oil, brown sugar, and granulated sugar, until creamy, about 1-2 minutes. Beat in vanilla and one egg at a time, until well combined.
Reduce mixer speed to low, and beat in flour mixture, alternating with the milk, until combined, about 1-2 minutes (remember to scrape down the sides of your bowl during this process). Fold in carrot, pineapple, pecans, and coconut with a rubber spatula, until well combined.
Scrape batter evenly into prepared cake pans and bake for 30-35 minutes, or until golden brown, and a toothpick comes out clean from the center of the cake. Cool pans on a wire rack, for 10 minutes. Run a knife around outer edges, and invert cakes onto waxed/parchment paper, to cool completely.
While in oven, prepare the icing by mixing the cream cheese and butter together for 2 minutes on high speed. Add the vanilla and confectioners sugar to the mixture and beat for another 2 minutes until at desired spreading consistency.
Also, while the cake is in the oven, prepare the candied topping. Preheat a skillet on medium-high heat with olive oil. Add the carrot, coconut, pecans, and the brown sugar. Continuously mixing the ingredients with a spatula until they are crispy and hard. This will take at least 2-3 minutes. Add more brown sugar if desired.
Once cooled completely use a serrated knife to cut each cake in half. Place first half on desired plate and use ¾ cup of icing to coat the top. Place the two layers on and do the same thing. On the last layer (use the top of one of the cakes), use the rest of the icing for the sides and top so no crumbs appear. A few are fine though because of the topping that is to be placed on after.
Sprinkle as desired and cool in refrigerator for 2-3 hours. Enjoy!