1. March, 2011

Print This Recipe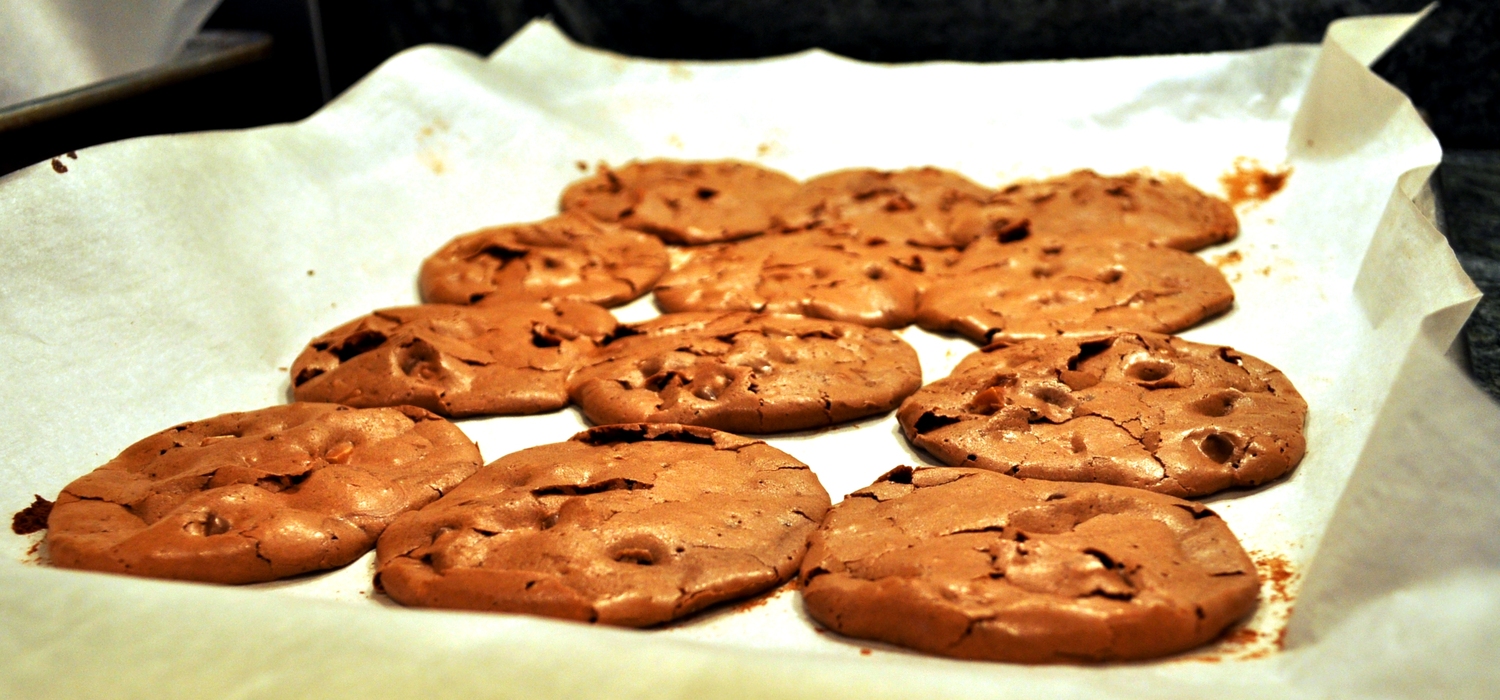 Who would have ever thought about baking Black Forest cake cookies?
As soon as I saw this recipe in Baked: New Frontiers In Baking, by Matt Lewis and Renato Poliafito, I had to try it. It was on mind for quite some time to bake these cookies but I just never got around to doing it, until now and boy did it rattle my sweet tooth in a very good way. The big adjustment that I made to this recipe was to not refrigerate the cookie dough before baking them. It gave these Black Forest cookies a much different texture than the Baked cookies and that is why I gave it a different name; Black Forest Crinkle Cookies. Although it is not your typical cookie texture, light, brownie-ish and crumbly, these Crinkles make for some great treats. They can be paired with some vanilla ice cream if you would like an explosion in your mouth (I do advise this type of activity!).
Another way to enjoy these Black Forest Crinkle Cookies is on a long
road trip. The reason I say this is because this is exactly where I enjoyed my first batch of crinkle cookies, on the road! And there is no shortage of vanilla ice cream on the road either. Go through any fast food drive-thru, get a vanilla cone, top with Black Forest Crinkle Cookie, indulge, and be on your way!
Makes 45 cookies
Ingredients:
¾ cup               All purpose flour
1 tsp                  Baking powder
½ tsp                Salt
16 ounces       Dark Chocolate (60-70% cacao), coarsely chopped
10 tbsp            Unsalted butter at room temperature
6                         Large eggs
1 ¼ cups         Sugar
1 cup                Light brown sugar, packed
1 tbsp               Pure vanilla extract
1 ½ cups         Semi-sweet chocolate chips
1 ½ cups         White chocolate chips
Optional:
1 cup                Dried cherries (if using this option, only use 1 cup of both the semi-sweet chocolate chips and the white chocolate chips)
Method:
Option 1
Preheat the oven to 375 degrees F. Line 2 baking sheets with parchment paper to assure the cookies will not stick.
In medium sized bowl, whisk together flour, baking powder, and salt.
In another medium bowl, heat up the dark chocolate and butter. Set aside to cool.
In a large bowl, beat the eggs, sugar and brown sugar on high speed until the mixture is pale and thick, about 5 minutes.
Add the cooled chocolate mixture and the vanilla and beat until just combined. Scrape the sides of the bowl and mix for another 10 seconds.
Add the flour mixture and mix on a low speed until just combined and no dry flour remains, about 10-15 seconds. Do not overmix at this step.
Fold in the semi-sweet and white chocolate chips with a spatula. (Also, fold in the cherries if desired. I did not use cherries because I do not prefer this taste in a cookie)
Bake in oven for 10 to 12 minutes, rotating the pans halfway through the baking time. Take out when the cookies begin to set and the tops begin to crack. They will be very thin, crumbly and delicious if you use this option.
Let cool slightly before removing the cookies and cooling them more on a wire rack. Or you can serve the hot cookies with some vanilla ice cream and Enjoy!
Option 2
All the steps are the same for option 2 until you get to the baking part. If you desire a firmer cookie than refrigerate the dough for 6 hours. Follow the same strategy for baking time and temperature. Cookies will come out a bit thicker with fewer cracks. Enjoy!