30. March, 2011

Print This Recipe
Cinnamon Buns…the next step to being The Male Baker. Although they do take quite some time to make, they were worth every second of my time. They give the house an aroma that no one can resist. Store bought cinnamon buns do not compare to these at all.
Growing up my mom always used to make cinnamon buns that Jon, Ben, Amanda (my three sibs) and I would just go nuts over. Home made cinnamon buns would rarely survive to see the next day and I mean rarely. The only circumstance in which they would last longer than 24 hours is when they were paired with my mom's amazing cheese rolls, which would go first before any other baked good! Looking back, I can't believe how much baking was done at home by my mom. Just makes me remember the great times. I hope you will make these so you can see just how good they really are.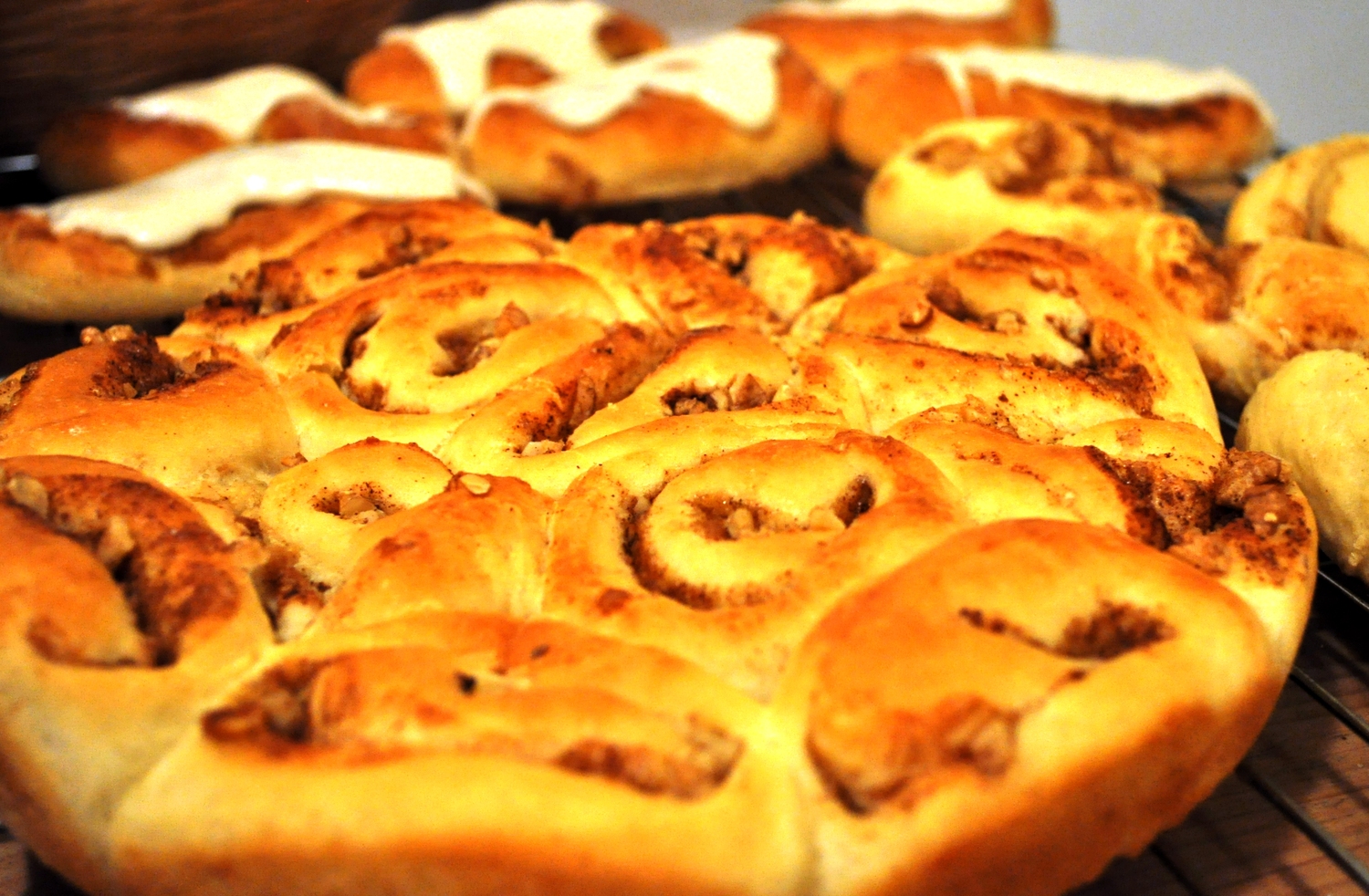 Makes two whole 9-inch circle pans
Ingredients:
Sweet Roll Dough:
1                            Package active dry yeast
½ cup                 Warm water (105-115 degrees F)
½ cup                 Lukewarm milk (scalded than cooled)
1/3 cup              Sugar
1/3 cup              Unsalted butter
1 tsp                     Salt
1                            Large egg
3 ½- 4 cups      All purpose flour, unbleached
¼ cup                Brown sugar
¼ cup                Walnuts
2 tbsp                Cinnamon
Icing:
¾ cup                Powdered sugar
1 tbsp                 Unsalted butter
¾ tsp                 Pure vanilla extract
2 to 3 tsp          Hot water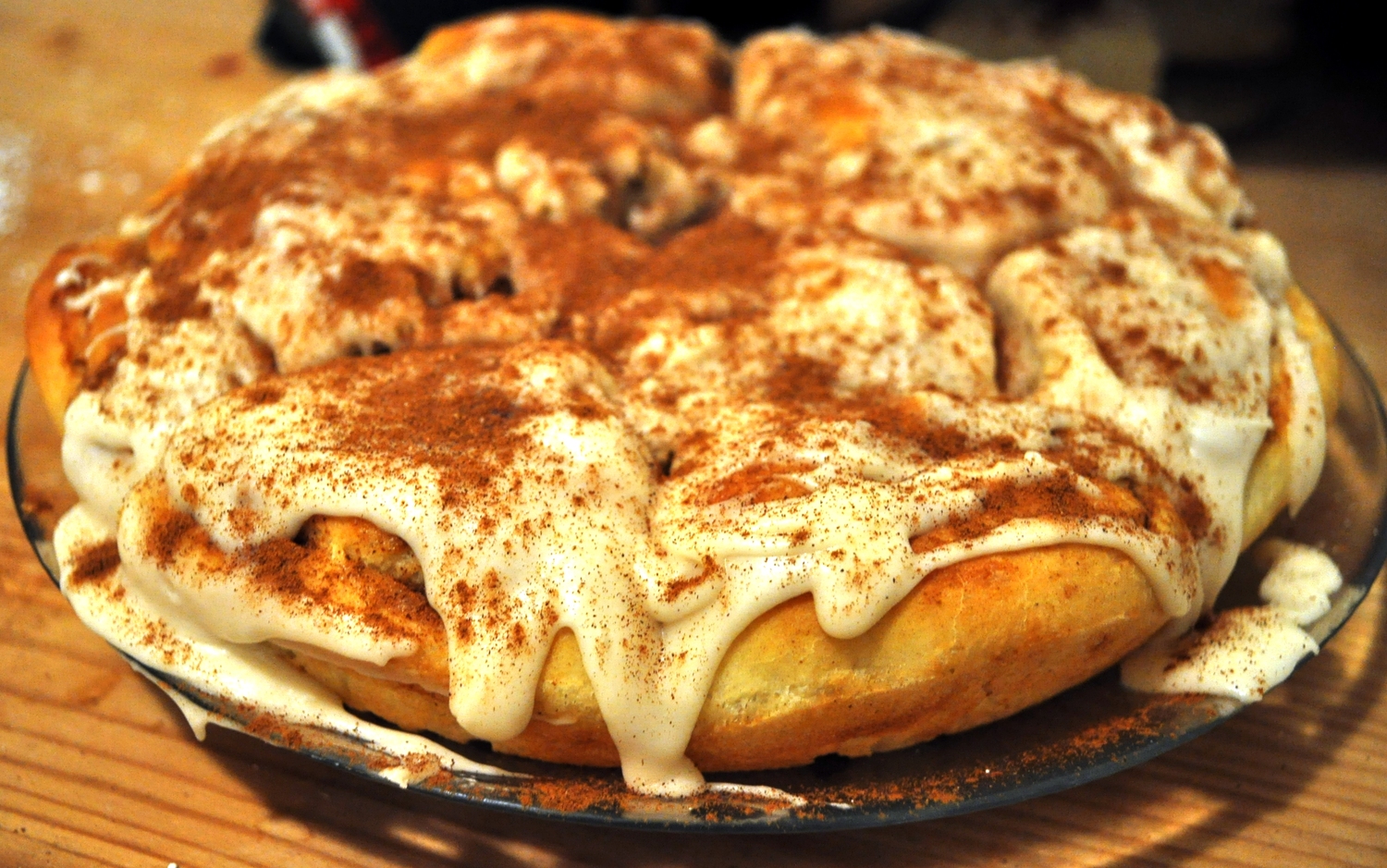 Method:
Dough:
Grease 2 9 inch circle pans, set aside.
In large bowl, dissolve the yeast in warm water. Stir in milk, sugar, butter, salt, egg, and 2 cups of the flour. Beat until smooth. Mix enough remaining flour to make dough easy to handle.
Turn dough onto slightly floured surface and knead until smooth. You may need to add some more flour at this point if the dough is too sticky. About 5 minutes.
Place in greased bowl and turn greased side of dough up. Cover with towel or saran wrap and let double which will take 1-1 ½ hours. Dough is ready if indentation remains after touched.
Punch down dough.
Roll dough into rectangle, 12 by 7 inches, on lightly floured surface. Spread with brown sugar, walnuts, and cinnamon. Roll up tightly, beginning at 12 inch side.
Pinch edge firmly to seal. Stretch roll to make even. Cut into twelve 1 inch slices. Place slightly apart on prepared pans.
Heat the oven to 375 degree F
Let rise in warm place for half an hour or until double.
Bake until golden brown, about 20-25 minutes.
Prepare frost by mixing all ingredients to desired consistency. Frost as desired with icing and enjoy!