22. November, 2012

Print This Recipe
Usually The Male Baker does his work alone, but not this time. This time I had 4 sous bakers-in-training helping me out. You may be thinking, 'the more the merrier', but these students had never baked before and their first language wasn't even English.
My wife Hannah and I were leading an English study group in Laos and we had this brilliant idea to have one baking lesson every week, for three weeks to make class more hands on and to teach our students how to bake. Once we proposed the idea, they were exuberant and couldn't wait for Friday afternoon baking lessons! Since this was the only lesson I took photos, I wanted to show you how these kids fared in one of their first attempts at baking North American goodies. My role in the whole thing was more of an overseer to make sure they were adding the right amounts of ingredients (a little math lesson was necessary here and there), that  they remembered when to take the baked goods out of the oven, and to make sure that they didn't add any local ingredients that they use everyday such as fish sauce or hot chili flakes behind my back(either of which would have killed it for me!). Just writing fish sauce gave me the shivers! After some close calls in the kitchen, my baking class managed to concoct some delicious Chocolate Tim Tam Cookies that were even worthy of blogging about. If you don't have Tim Tam's, you will have to come over to Asia to find some for yourself.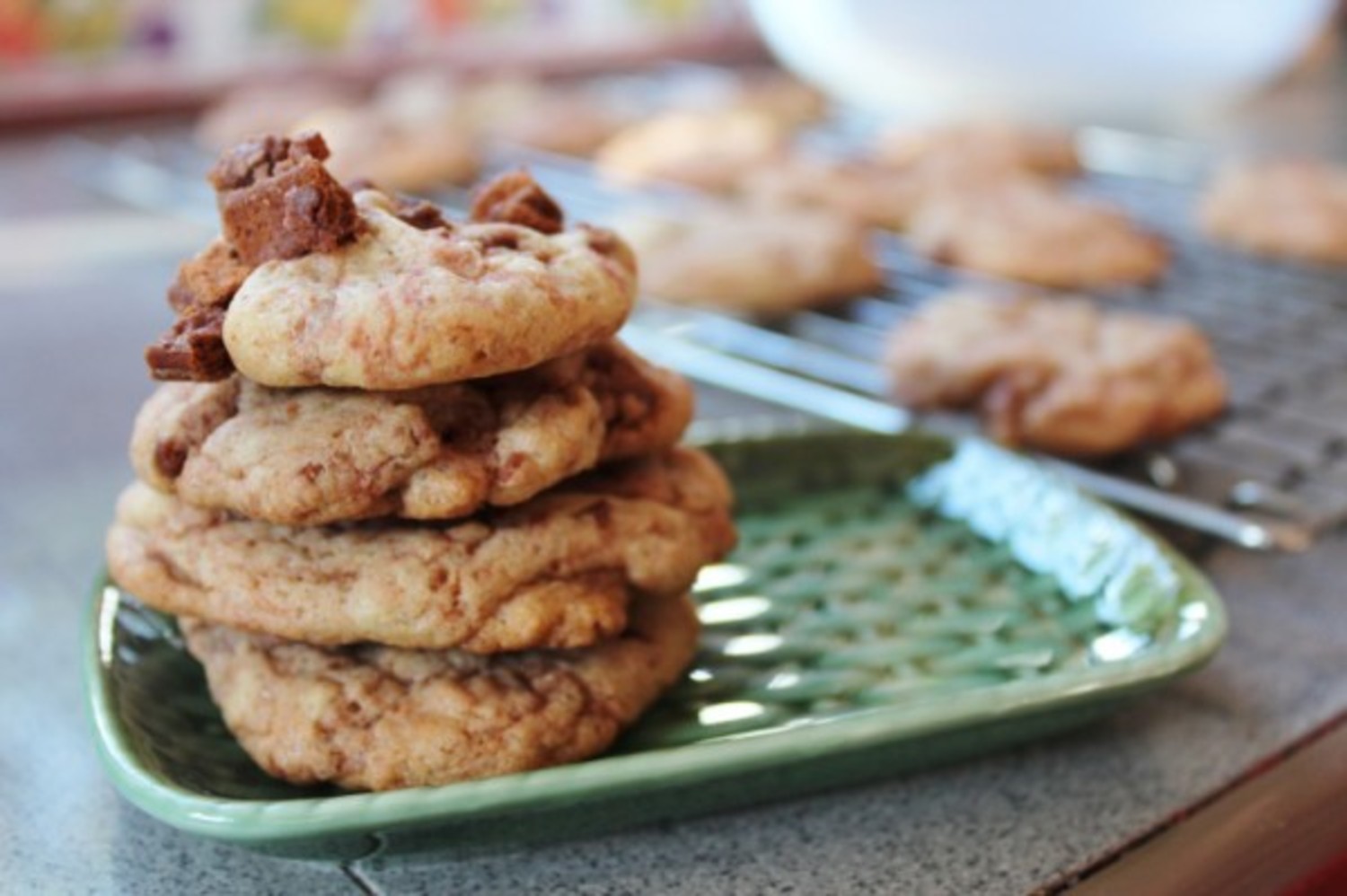 Makes around 30 cookies
Ingredients:
2 cups              All purpose flour
1 tsp                  Salt
1 tsp                  Baking soda
1 cup                Unsalted butter, softened
1 cup                Packed golden brown sugar
½ cup              Granulated sugar
2                         Large eggs
2 tsp                 Pure vanilla extract
8                        Tim Tam bars, chopped (substitute for Kit Kat or any chocolate wafer cookie
Method:
Preheat the oven to 375 degrees F and line 2 baking sheets with parchment paper.
In medium sized bowl, whisk together the flour, salt, and baking soda, set aside.
In large bowl, cream together the butter, white sugar and brown sugar.
Scrape down the bowl and add the eggs one at a time. Beat until each egg in incorporated. Mix should look light and fluffy. Add the pure vanilla and beat for another 5 seconds.
Add half the flour mixture to the butter mixture and beat until there is no dry flour remaining. This will take about 15 seconds. Do this again for the second half of the flour.
Using a spatula, fold in half of the chopped Tim Tams into the mixture (or Kit Kat). Use the other half of the Tim Tam's for putting on top of the cookies before putting them in the oven.
If you want bite sized cookies, make the dough half the size of a golf ball for each cookie. Each pan should be able to withstand 15 smaller cookies. If you want bigger cookies, you can use an ice cream scoop or a tablespoon, and you will be able to fit 12 on each cookies sheet.
Place the other half of the Tim Tam's on top of the cookies to dazzle them up a bit!
Bake for 10-12 minutes for smaller cookies, 12-14 minutes for larger cookies.
Remove from oven when browning on the top and around the edges and let stand on pans for 5 extra minutes. Remove and place on wire racks for another 5. Enjoy!