3. January, 2013

Print This Recipe
Wow, it feels good to be back in the swing of baking! I realized yesterday that I have not posted a new recipe in over 2 months! That is one of the longest baking-free stints that I have ever experienced. "Why have you been gone so long?" You may ask.
Well, I have been traveling and volunteering in 10 countries in SE Asia with my wife Hannah over the past 9 months. We spent over half of our time teaching English and helping ministries in 4 different places and in between volunteering we did some amazing sight seeing. Some of the highlights include the temples in Bagan, Myanmar, getting our Scuba certification near Sipadan, Borneo, story telling to thousands of kids in Taiwan, and living with a local Lao family of 15 people. We left for Bangkok back in January of this year and we just got back to our home in Calgary, Canada 4 days ago.
There were only a few occasions when I could bake in Asia since most of the people we stayed with did not have ovens. An oven is one of the last things people want in their homes because it is so steaming hot all the time that people would sweat puddles if they attempted to bake treats. Many days in Thailand, Laos and Myanmar the heat rose up to 43 degrees Celsius (that's 110F) with high humidity! So now that we are back in the dead of winter, any oven acts as another heater to warm me up when I am feeling like a popsicle from the deep freeze!
Since I was so eager to get mixing again, I used whatever I could find in the house for inspiration. A bundle of pears, a touch of cinnamon, some berries to garnish, and voila, I created a toasty fall treat! Enjoy!
Makes 1 cake that serves 10-12 people
Hands-on time: 30 minutes
Total time: 1 ½ hours
Ingredients:
½ cup             Packed brown sugar
¼ cup             Unsalted butter
2 tsp                 Lemon juice (fresh is better!)
3                        Pears, firm ripe
2 tsp                 Cinnamon
Buttermilk cake:
½ cup             Unsalted butter, softened
1/3 cup           Granulated sugar
1/3 cup           Packed brown sugar
2                        Eggs
1 tsp                 Pure vanilla extract
1 1/3 cups     All purpose flour
1 ½ tsp           Baking powder
½ tsp              Baking soda
Pinch of salt
¾ cup             Buttermilk
Method:
In saucepan over medium heat, cook brown sugar, butter, and lemon juice. Stir continuously until the sugar is dissolved, about 2 minutes.
Prepare one 9-inch (2.5L) square cake pan (or one 8-inch (2L) and one 4×6 inch (750ml) pan) by greasing them and lining them with parchment paper.
Scrape the mixture into the cake pans and level the mixture out evenly.
Sprinkle 2 tsp of cinnamon over the sugar mixture.
Peel, core, and halve the pears; cut each half into 3-4 pieces and arrange on the pan. Overlap the extra pears if necessary
See below pictures for the next part.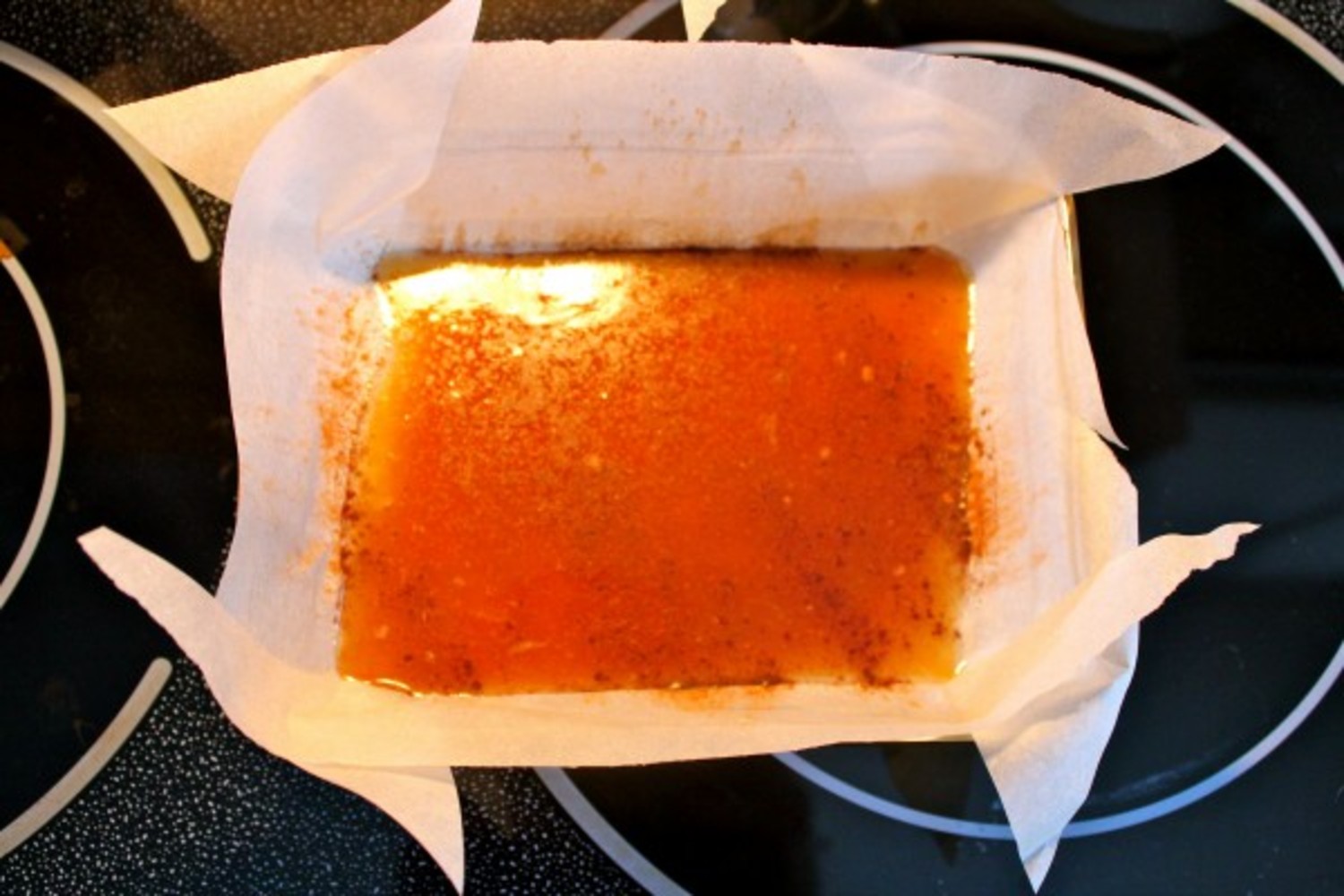 Buttermilk cake:
In large bowl, beat the butter, granulated sugar, and brown sugar together until fluffy, about 1 minute. Beat in eggs and vanilla until incorporated.
In a separate bowl, whisk together flour, baking powder, baking soda, and salt.
Stir into butter mixture alternately with buttermilk, making 3 additions of dry ingredients and 2 of buttermilk. Pour over pears, smoothing to the edges of the pan.
Bake in 350C (180F) over until toothpick or cake tester comes out with no crumbs on it, about 30-40 minutes.
Let cool in pan for 10 minutes. Invert on plate, and remove parchment paper.
Enjoy!