16. February, 2011

Print This Recipe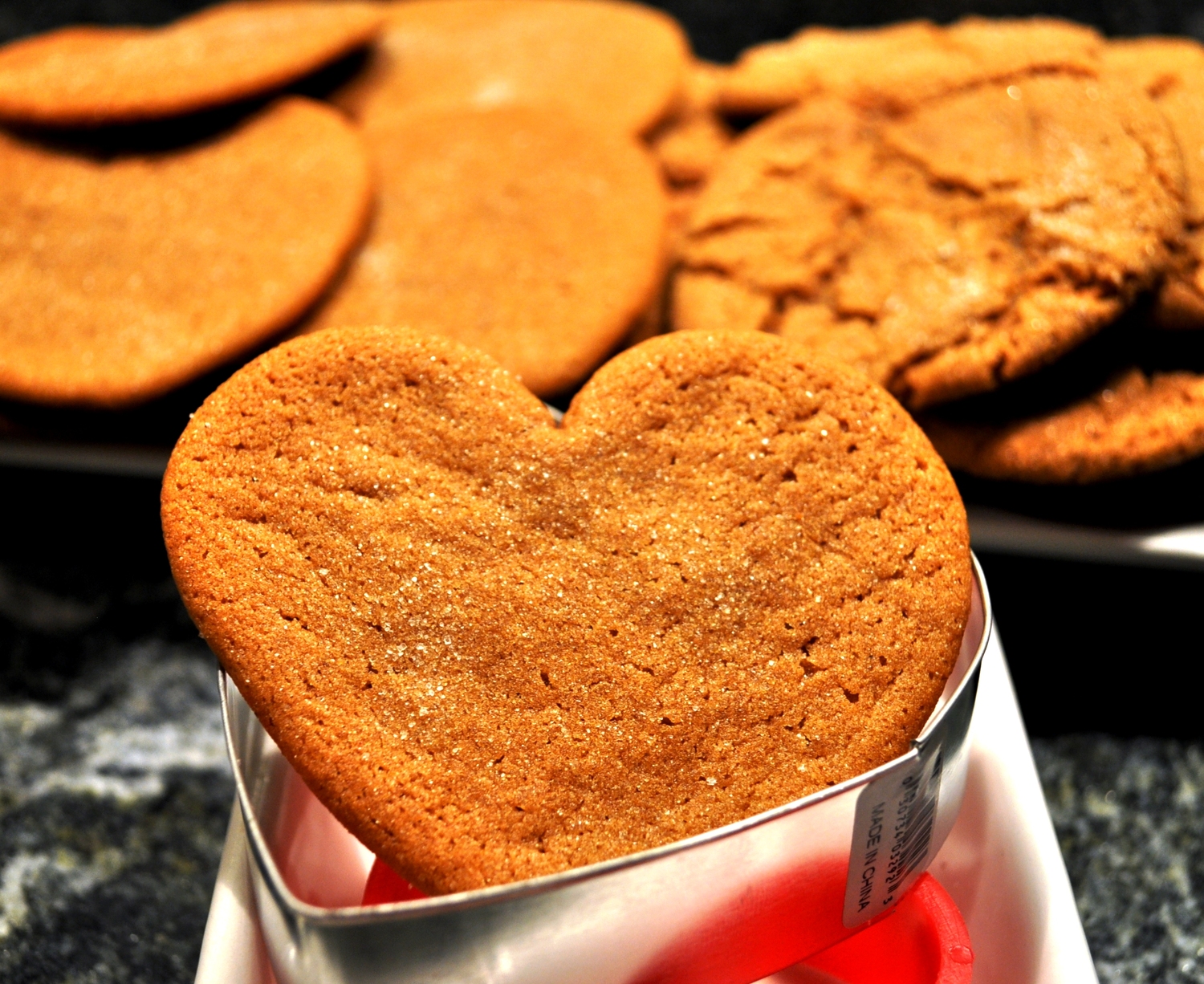 There is something about these chewy gingersnaps that make them one of my most asked for treats from my friends and family. It doesn't matter what time of year I make these gingersnaps, people always want more. It could be the fancy molasses that I use, or the extra ground ginger that I throw in, but I do know for sure that it is always necessary to double this recipe when I make it!
Also, I have heart shaped cookies in the picture because I made these on Valentine's Day. The trick to making shapes with these gingersnaps is to follow the next 4 steps:
Line part of the counter with parchment and sprinkle some flour on it. I use parchment paper instead of putting it right on the counter because than I know for sure that the dough will not stick.
Roll as much of the dough into a big ball and place it on the parchment paper.
Using a rolling pin, roll the dough until it is about ¼ inch thick.
Cut out desired shapes with cookie cutters and place on cookie sheets. Sprinkle with sugar on top.
Repeat steps 2 through 4 if you have more dough.
Prep time: 15 minutes
Bake time: 10-12 minutes
Ready in: 30 minutes
Makes 45 Gingersnaps
Ingredients:
Gingersnaps:
¾ cup              Unsalted Butter at room temperature
1 cup                Sugar
1                         Large egg at room temperature
½ cup              Fancy molasses (I used Grandma's Original)
2 ½ cups        All purpose flour
2 tsp                 Baking soda
2 ½ tsp            Ground ginger
1 tsp                  Ground cinnamon
½ tsp                Salt
¼ cup               Sugar
Directions:
Preheat the oven to 350 degrees F and line 2 cookie sheets with parchment paper. Set aside.
In a large bowl cream the butter and the first amount of sugar for 3-5 minutes. Mixture should look light and fluffy. Add the egg and beat until incorporated, about 5-10 seconds. Add molasses and beat until smooth, about 10-15 seconds.
In another bowl, whisk the flour, baking soda, ground ginger, ground cinnamon and salt.
Add the flour mixture to the butter mixture in 2 additions. Beating until there is no dry flour remaining after each addition.
Roll the dough into 1 inch balls and roll in the second amount of sugar.
Place one pan on the top of the oven, the other on the bottom.
Bake for 10 minutes then switch the pans for another 2 minutes. Take out when beginning to brown on top. Let cool on pan for 5 minutes and then transfer to wire racks for another 5 minutes. Now enjoy!